24/7 Click & Collect for pharmacies.
Hand over medicines at any time with a smart pick-up station.
Digitalisation is in full swing and does not stop at pharmacies. Fully digital collection stations are already in operation at pharmacies, simplifying the collection process and promoting sales in the webshop. Expanding your opening hours to 24/7 through Click & Collect for pharmacies with the use of a smart pick-up station brings new opportunities, better customer loyalty and new sales channels.
Our Variocube can freestanding be set up in front of the pharmacy or permanently installed as a system accessible from inside and outside. Our locker systems meet high security standards and can be individually configured in terms of hardware and software to meet the needs of our customers. The adaptability enables the integration of pass-throughs, night locks, refrigerated compartments and the connection to merchandise management systems.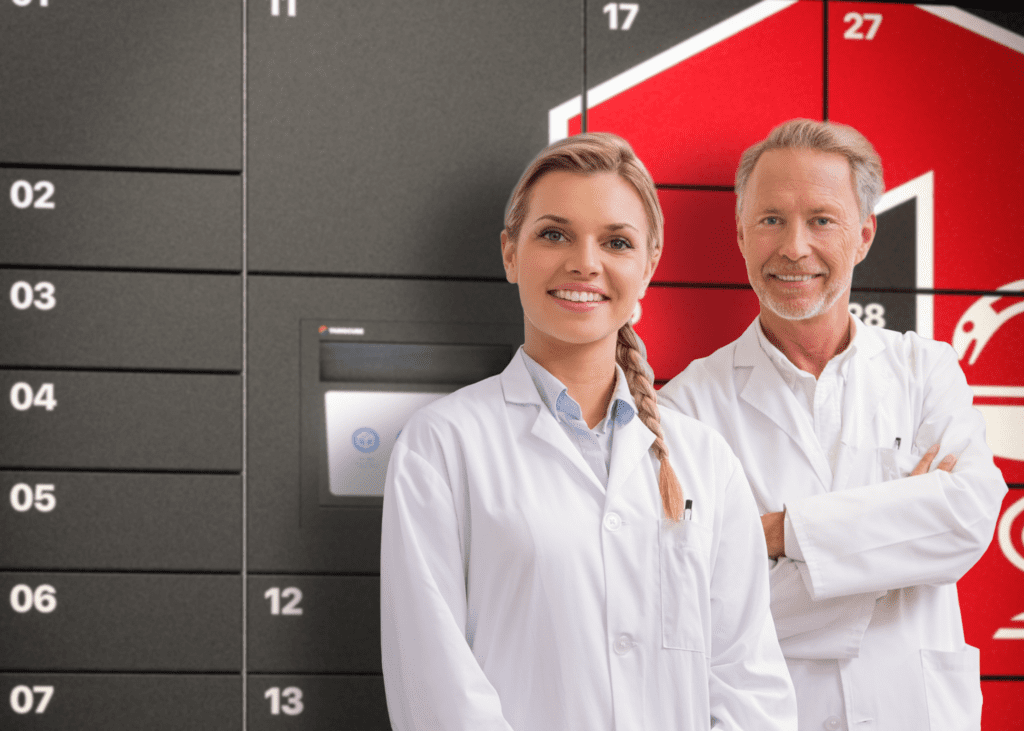 The advantages of Click & Collect for pharmacies.
In 2020, 220 million packages of prescription and over-the-counter medicines worth €4.8 billion were dispensed by pharmacists to customers throughout Austria. This corresponds to an average turnover of €21.81 per pack. These figures also give an insight into the existing potential, if one also calculates the effort of the pure pick-up persons without additional purchases. With a smart pick-up station, they can save money on pure pick-ups, have more time for consultation and increase the turnover from the resulting additional sales.
Alexander Bonmann, pharmacist from Essen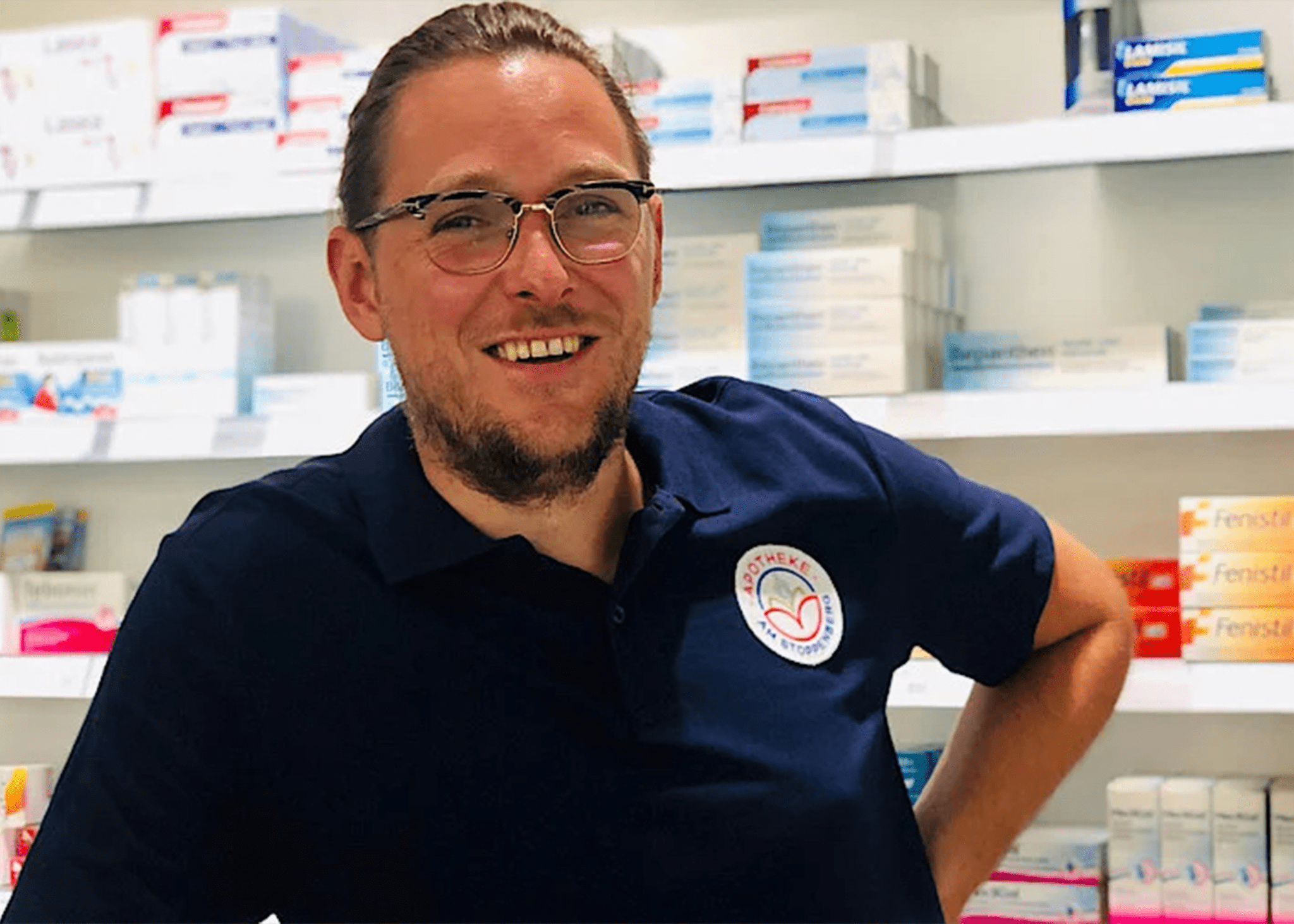 "Digitalised business processes with Click & Collect for pharmacies save costs, increase customer potential and bring more customer satisfaction."
Increasing number of handovers in a pick-up station in daily use:
The added value for the pharmacist:in:
The entrepreneurial added value:
Advantages over mail order:
Increasing number of handovers in a pick-up station in daily use:
The number of weekly handovers of pre-ordered or redelivered packs can be greatly increased after an introductory phase. 
In the introductory phase (3-6 months) 40- 50 pieces per week
In regular operation: 100 - 200 pieces per week
The added value for the pharmacist:in:
The entrepreneurial added value:
Advantages over mail order:
The process from ordering to collection:
This way, smart Click & Collect pick-up stations for pharmacies are integrated:
The procedure for your customers is always the same: after storing the item, your customer receives a message that the item is ready for collection. The item is then handed over 24/7, without waiting times, outside opening hours and without additional working hours via the Click & Collect pick-up station for pharmacies. Our Variocubes can do even more, as our software solutions are prepared for multiple use. Additional applications such as a parcel station can be activated at any time. In this way, they additionally increase the frequency at your pharmacy and create new attention for the location.

Maximum adaptability for every design.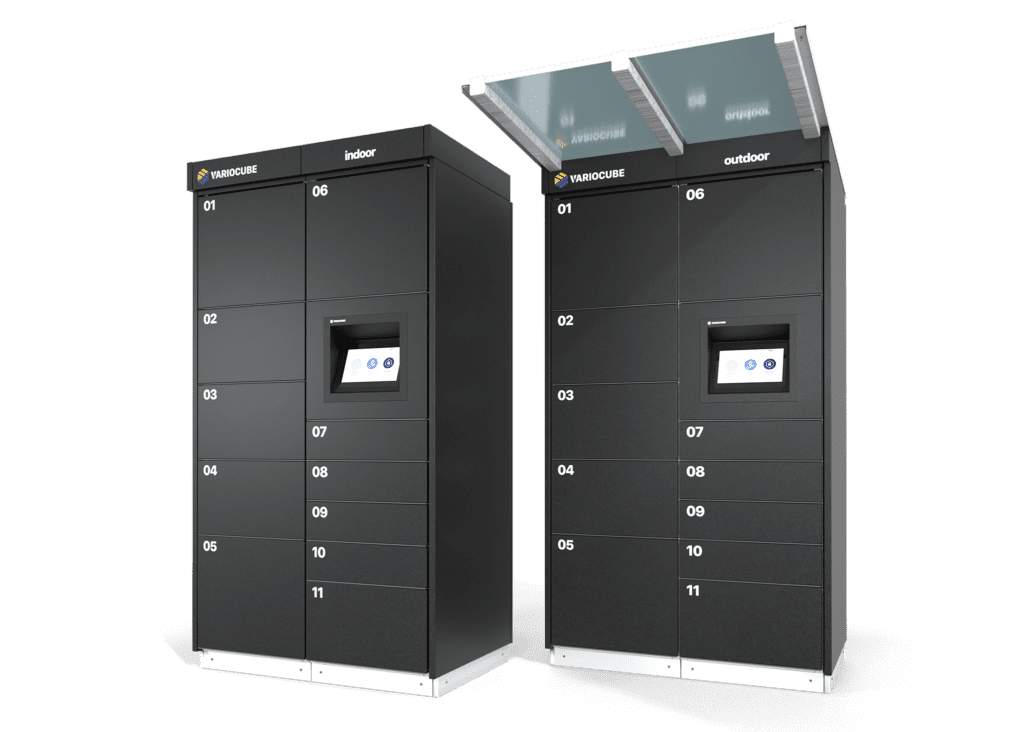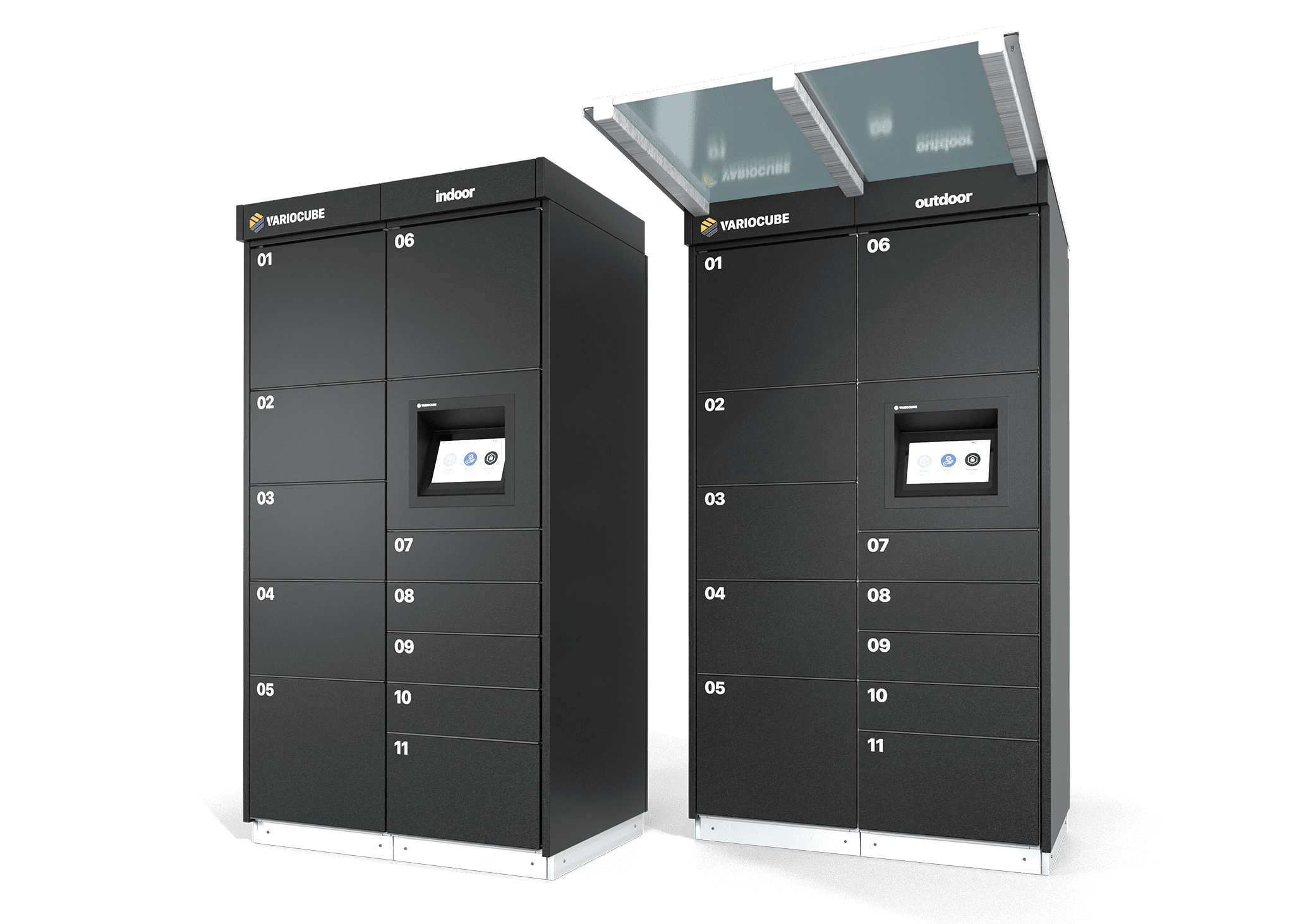 The hardware - Modular locker in industrial quality
Our innovative, flexible, modular locker systems are designed and manufactured to the highest quality standards. You get durable, long-lasting lockers with low service requirements. The electronic components used, such as controllers and touchscreens, meet industry standards to ensure long-lasting durability. All this is Made in Austria - so we meet the highest quality standards.
Accessible from both sides with pass-through facilities
In order to install our standard systems seamlessly, a niche installation is particularly suitable. To do this, simply create a gap at the location with the dimensions of the system. Once all work has been completed, we install the locker system in this gap. This way, our solution fits perfectly into your building or shop window.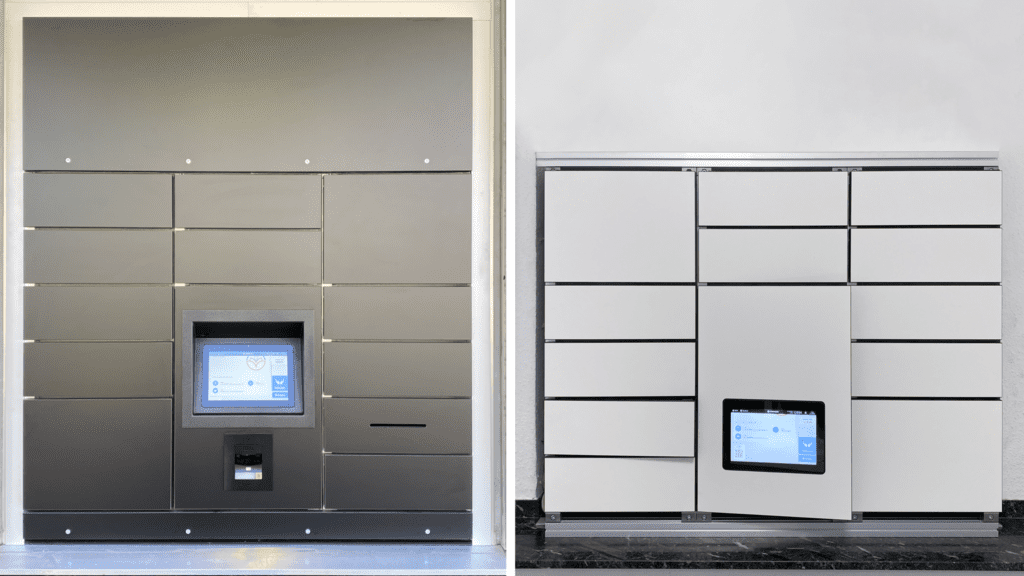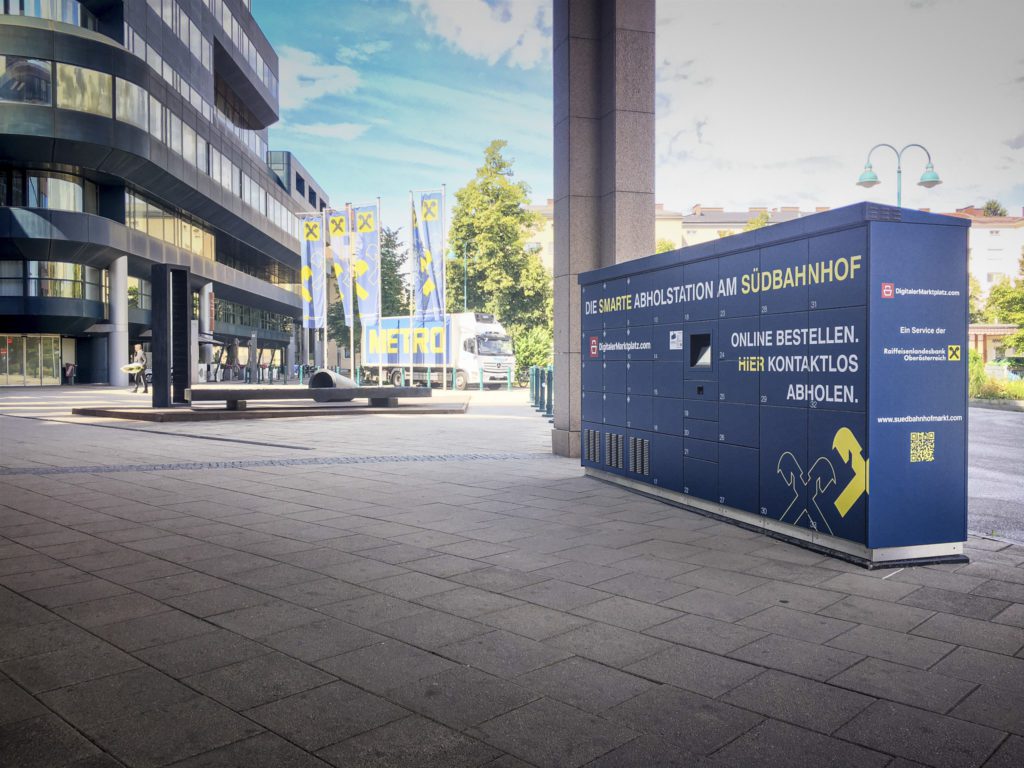 Wide scope for design with Partial or full foiling.
The application of logos, messages or individual subjects is possible with partial or full foiling. You can have the motifs replaced yourself at any time.
In this way they create an additional advertising space
for your business premises.
Cloud Software. Secure and efficient.
With our cloud solution, you reduce costs compared to on-premises solutions. The security of your data and the up-to-dateness of the software is increased by the professional support of the ISO 27001 certified data centre.
Cloud solutions are affected by disruptions much less frequently or, if the worst comes to the worst, they are remedied very quickly. They do not have to place an additional burden on their IT and save personnel and working time.
You get a secure, AES256 encrypted, reliable and cost-effective solution.
Interfaces to your systems.
Thanks to our open interfaces (API), the smart lockers can be integrated into existing software solutions, e.g. ERP, CRM and shop systems, employee databases and much more.
Cloud-based, microservice architecture is:
Scalable – it can be scaled horizontally at any time.

 

Reliable – Essential services are distributed across multiple sites or closely monitored.
Up-to-date – through our continuous delivery process based on Kanban, all our customers are always up to date.
Secure – AES256 encryption enables secure data transmission and prevents the opening of compartments by third parties.
FAQ: Click & Collect for pharmacies - 8 frequently asked questions about the benefits of smart pick-up stations.
Are you interested in smart locker systems for pharmacies? Then get in touch today: