Drop-off and pick-up station for dry cleaners and laundries.
With our smart drop-off and pick-up station for dry cleaners and laundries, you can make the exchange of laundry items even more flexible. Customers can drop off, pick up and pay for clothes regardless of the time of day. For you as a dry cleaner, smart drop-off and pick-up stations offer decisive advantages in terms of running costs, area coverage, service quality and many other issues. 
By installing several transfer points near your customers in a cost-effective way, they create a higher customer benefit and thus a higher cleaning volume. Staff and machine utilisation can thus be optimised.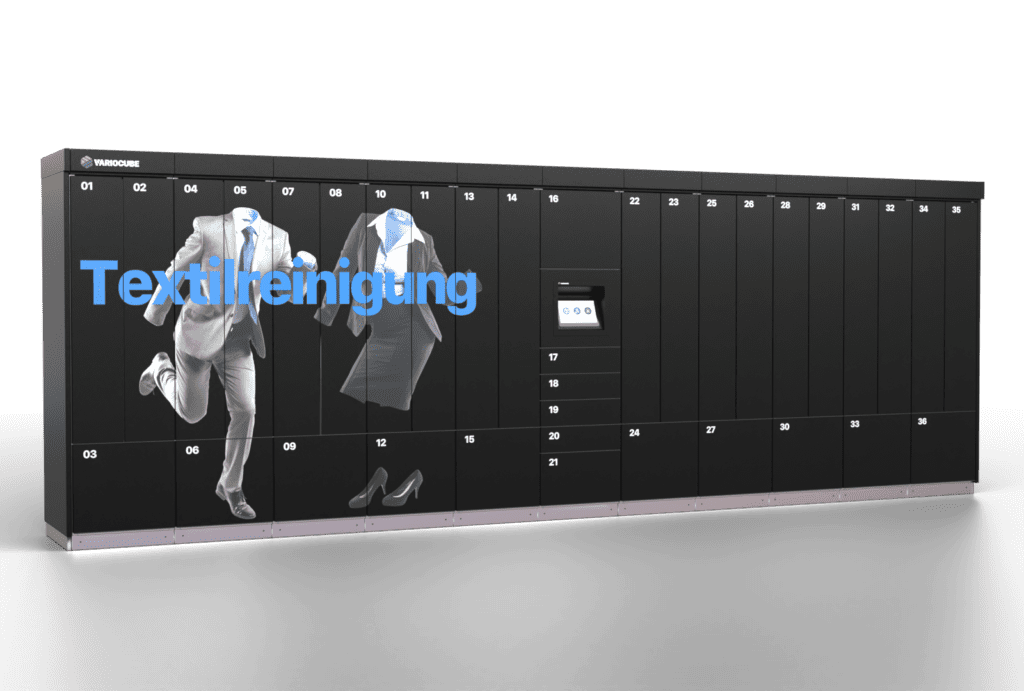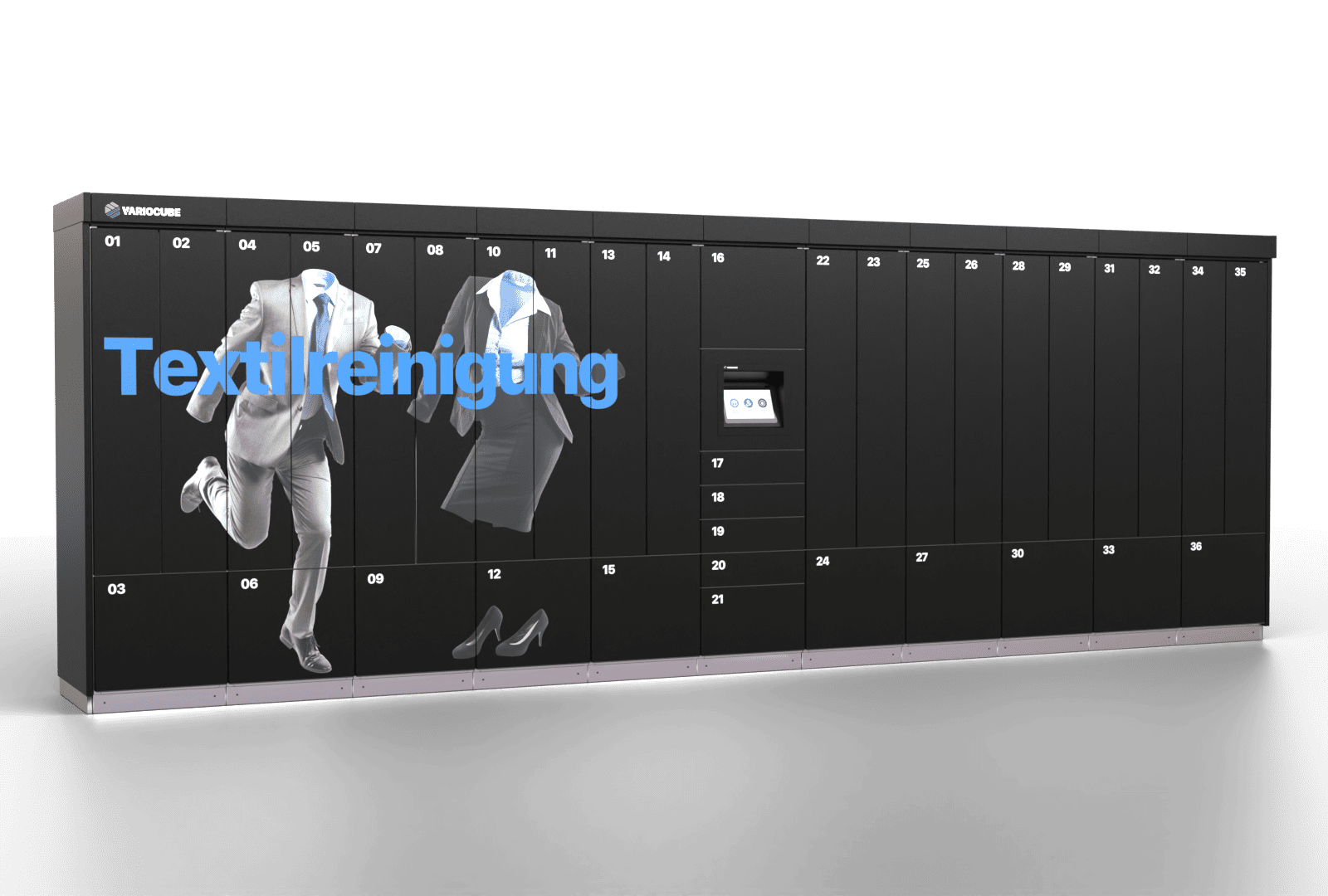 Your advantages through the use of smart pick-up stations.
Procedure for drop-off and pick-up stations for dry cleaning.
Can be integrated into your usual processes with little effort.
Integrating it into your processes is very simple: keep your usual system with receipts and add the new options to the acceptance and collection. Your drivers can visit the facilities as often as they like to pick up or return orders.
Solutions for textile cleaning in use.
clesyclean has been offering a pickup and delivery service for dry cleaning since 2006. The service was originally developed for companies so that they could save their employees a trip to the dry cleaners by offering the service directly in the company. Since 2016, clesyclean can also be used in shopping centers through the use of Variocubes. Some companies have now additionally purchased a Variocube for handing over the clothes.
Independent dry cleaners also relied on Variocube pick-up stations.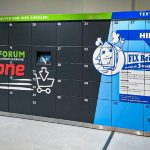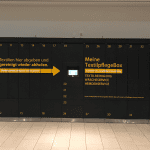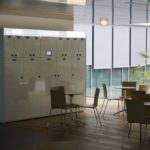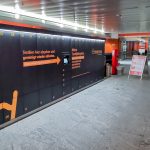 How they benefit from a smart pick-up station.
The VC-Tex module - specially designed for textile cleaners.
The VC-Tex module can be combined with any Variocube modules. In addition, at least one master module VC-M is required. This houses the terminal, as well as the entire electronics of the Variocube system.
Any number of modules can be combined into one unit. The modules have a width of 520mm and a depth of 650mm (inside), so that the clothes can be stored crease-free like in a clothes box. Each module has two hanging compartments and one compartment for the return of laid goods (e.g. tablecloths) and for the delivery of clothing.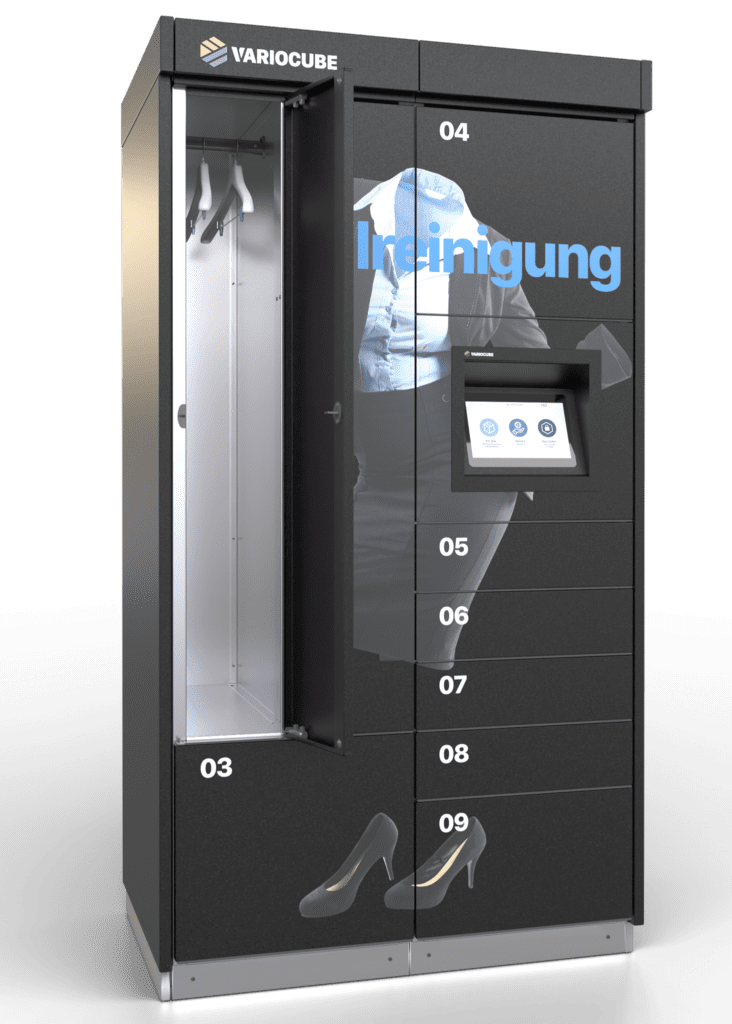 Long compartments for hanging goods:
The VC-Tex modules have 2 long compartments at the top with clothes rails for hanging goods.
Standard compartments for laid goods and levies:
At the bottom is a standard compartment for laid goods or for dispensing laundry items.
Touch Terminal:
For entering telephone numbers, collection codes, maintenance access and opening by the driver during collection. 
Various readers:
In the area below the display, there are optional NFC and bar/QR code readers and, next to them, the payment terminal.
Service compartment:
You can store cleaning agents etc. in the non-bookable service compartment.
Individual installations.
Variocube locker systems are as individual as the requirements placed on them. The number of modules is adapted exactly to your specifications. From the numerous options such as payment terminal or glass canopy, we create the perfect system for you.
As an example, we have put together 3 variants in different sizes. Starting with TexCube Small helps them to test the new touchpoint and gain experience. TexCube Medium is particularly suitable for shopping centres or other busy places. TexCube Large has been put together with a focus on companies with uniforms, healthcare facilities, production plants or banks.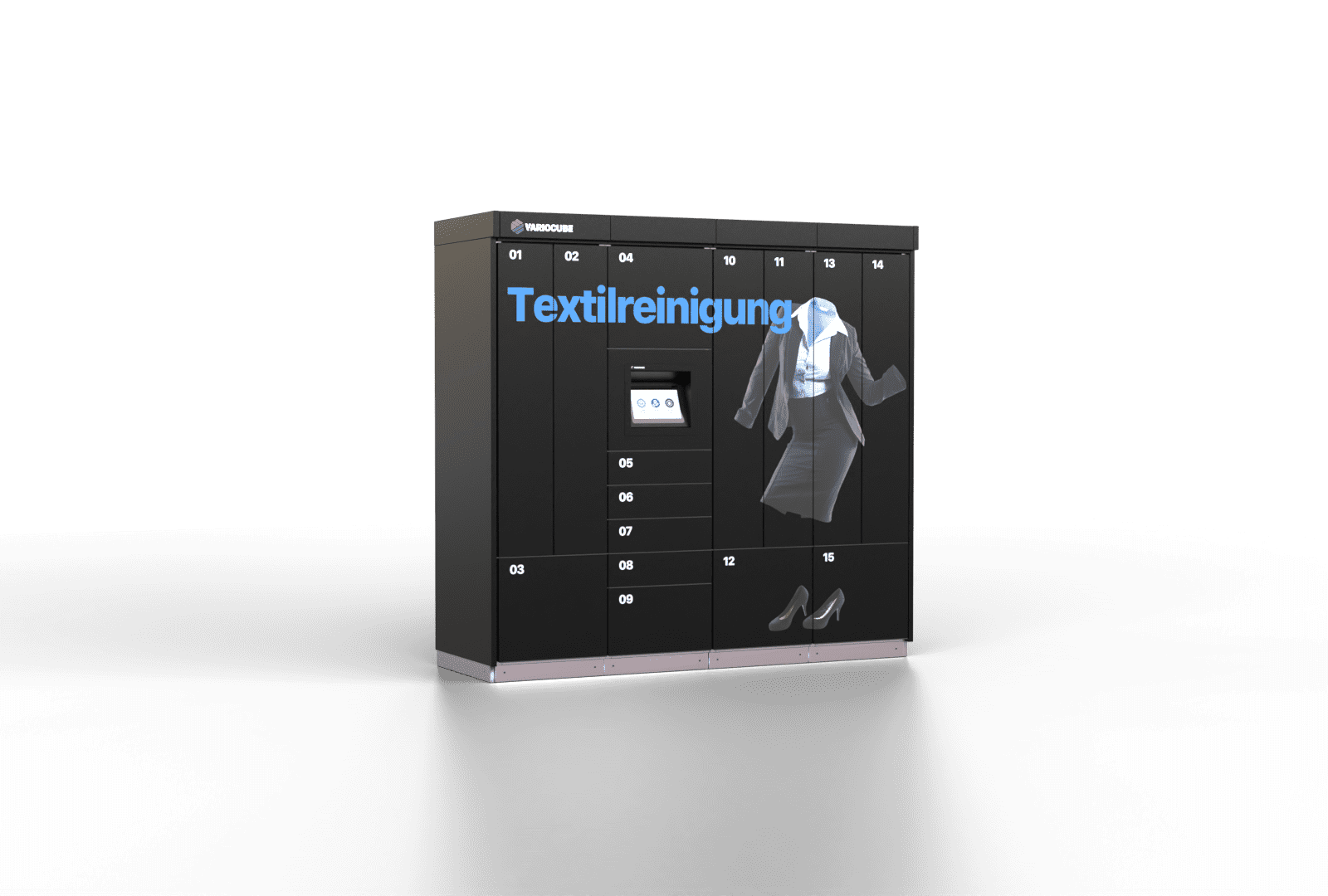 TexCube Small
Ideal entry-level configuration, expandable at any time. 1x VC-Master / 3x VC-Tex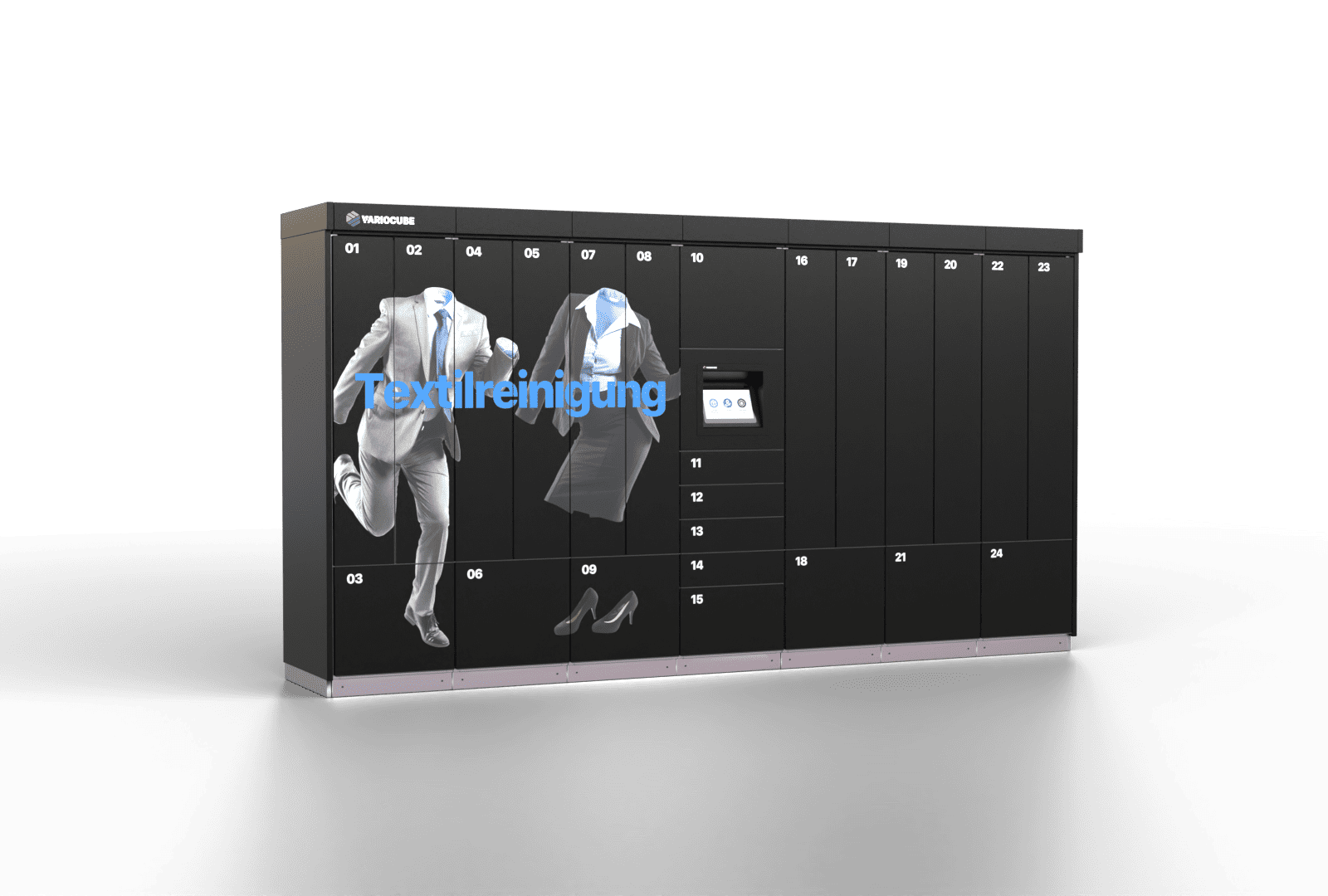 TexCube Medium
For highly frequented locations such as in shopping centres etc. 1x VC-Master / 6x VC-Tex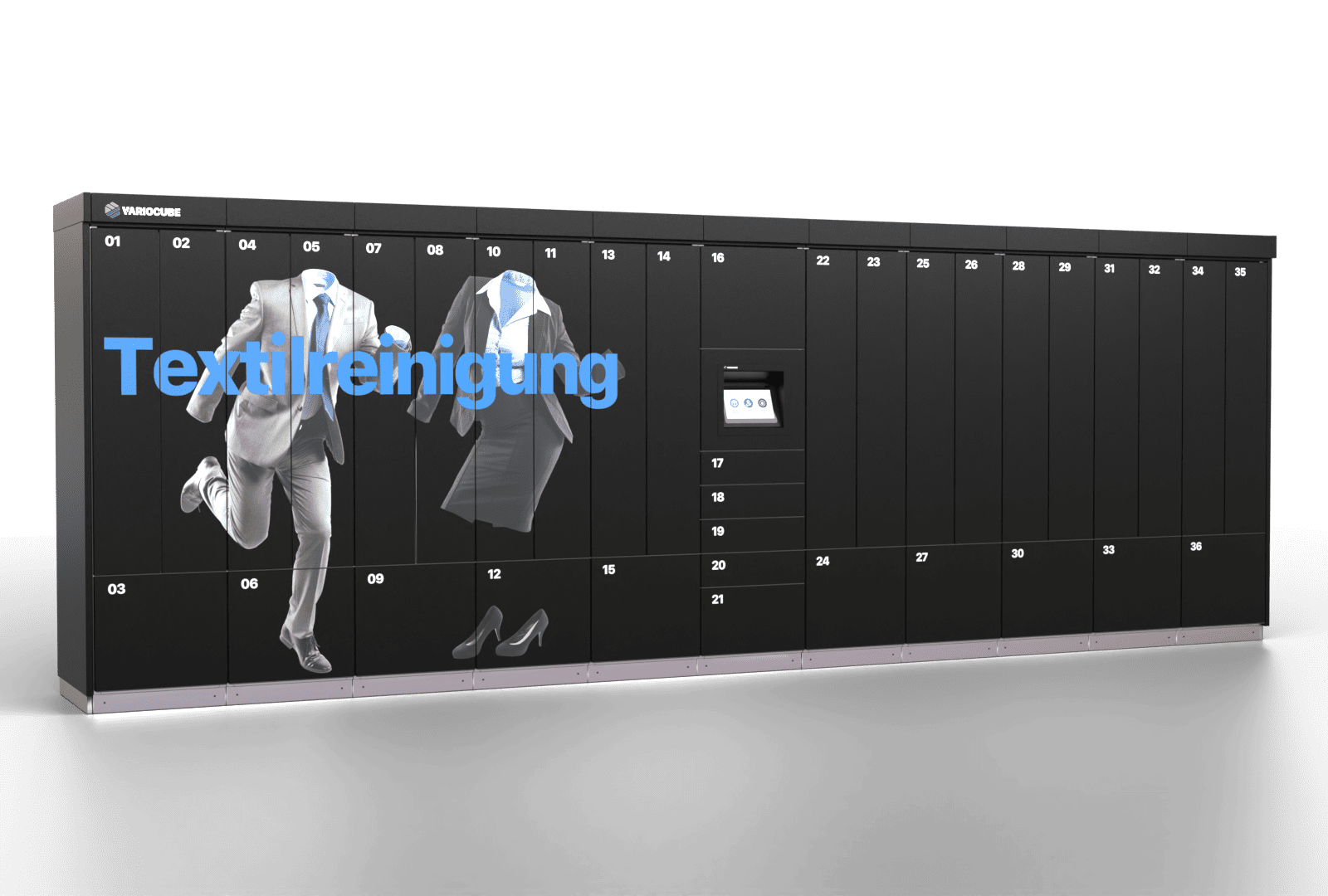 TexCube Large
Ideal for e.g. uniforms in companies, hospitals, etc. 1x VC-Master / 10x VC-Tex
Combine our TexCube software and VC-Tex modules with other services and cabinet modules.
In shopping centers, a combination of services such as lockers (Daylocker), Click&Collect, parcel logistics and service/rental can make absolute sense. With our Variocubes, you create the basic infrastructure for these services. One terminal, multiple software applications and different service providers. With Variocube this is possible to the fullest extent! 
The hardware - Modular locker in industrial quality
Our innovative, flexible, modular locker systems are designed and manufactured to the highest quality standards. You get durable, long-lasting lockers with low service requirements. The electronic components used, such as controllers and touchscreens, meet industry standards to ensure long-lasting durability. All this is Made in Austria - so we meet the highest quality standards.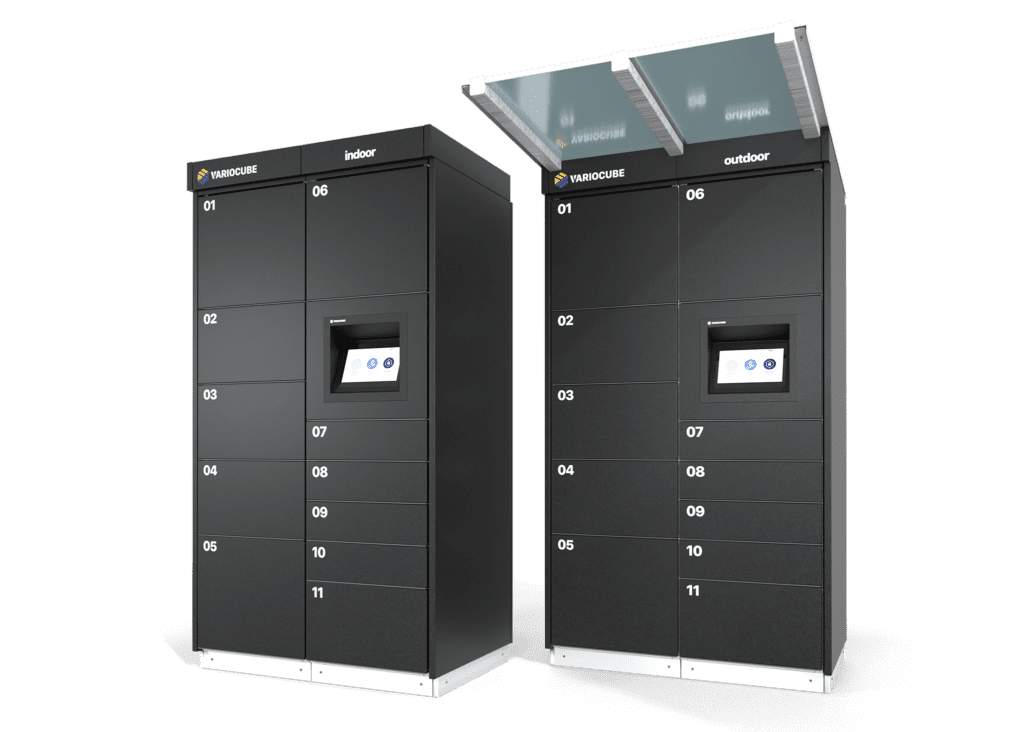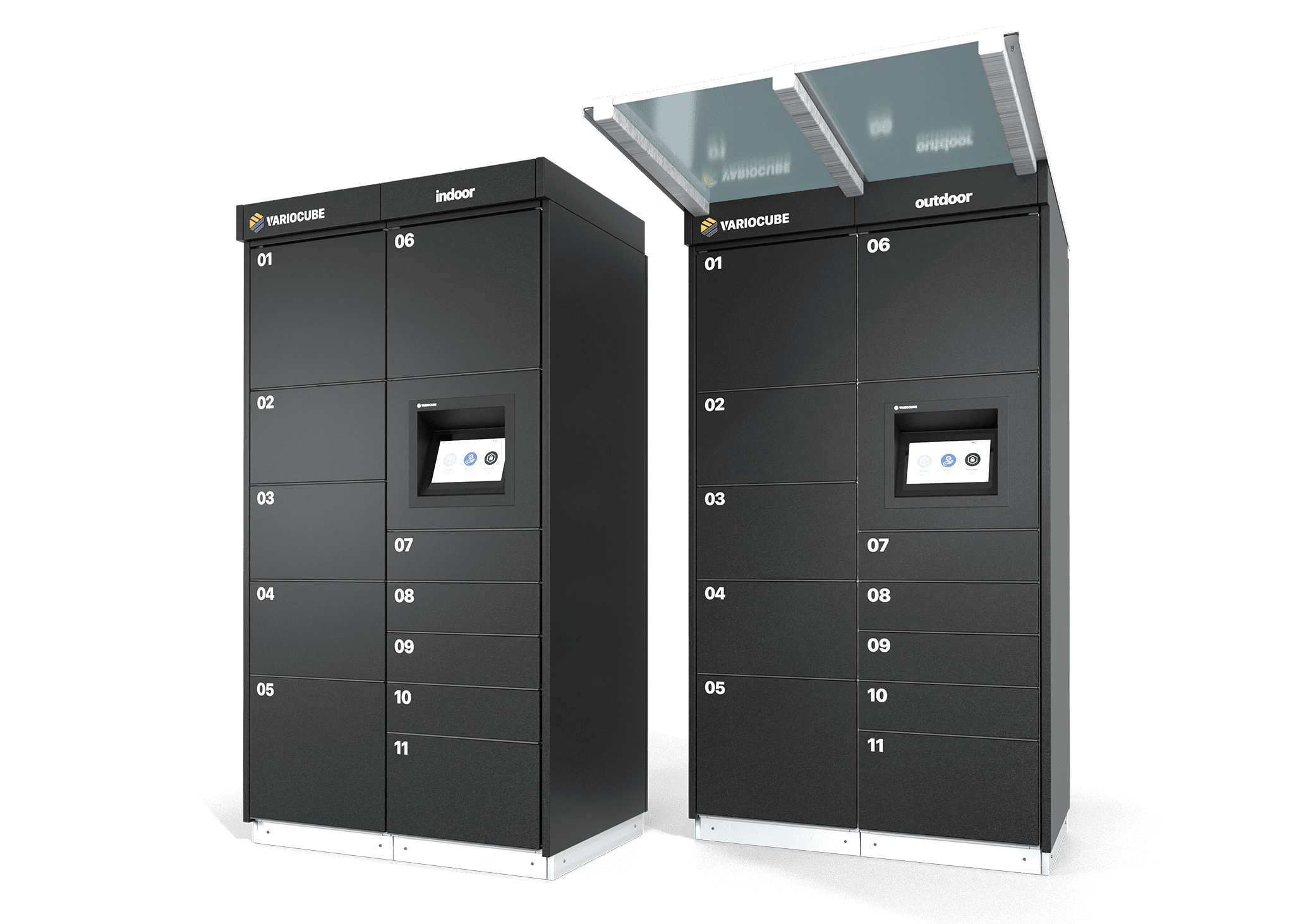 Cloud Software. Secure and efficient.
With our cloud solution, you reduce costs compared to on-premises solutions. The security of your data and the up-to-dateness of the software is increased by the professional support of the ISO 27001 certified data centre. 
Cloud solutions are affected by disruptions much less frequently or, if the worst comes to the worst, they are remedied very quickly. They do not have to place an additional burden on their IT and save personnel and working time.
You get a secure, AES256 encrypted, reliable and cost-effective solution.
Interfaces to your systems.
Thanks to our open interfaces (API), the smart lockers can be integrated into existing software solutions, e.g. ERP, CRM and shop systems, employee databases and much more.
Cloud-based, microservice architecture is:
Scalable – it can be scaled horizontally at any time.

 

Reliable – Essential services are distributed across multiple sites or closely monitored.
Up-to-date – through our continuous delivery process based on Kanban, all our customers are always up to date.
Secure – AES256 encryption enables secure data transmission and prevents the opening of compartments by third parties.