Offer your customers the maximum shopping convenience!
In order to make your customers' stay as relaxed as possible, comfort is indispensable! Locker systems are therefore standard because they literally free your customers' hands. Here, the innovative, smart VARIOCUBE locker system offers clear advantages:
Individual design
Choose your finishes and materials depending on the interior design.
Multiple benefits - one for everything
Multiple applications are possible on one system: e.g. Luggage storage, Clothes cleaning service, Service station, Click & Collect for the stores.
Family and friends - feature
A locker can be shared. A family or friends share a locker. Every smartphone becomes the key!
Visible Innovation
Only those who are modern and innovative, enthuse their customers. Remote control of the lockers with the smartphone is a cool thing!
Maintenance and Administration
Maintenance and admin tools for cleaning, occupancy, etc.
Not cleared compartments - so what?
If someone forgets to empty his compartment, an SMS reminder can be simply triggered directly in the admin area. The customer then can pick up his goods at any time. Your Lost & Found stock is dramatically reduced!
Significantly reduced service costs
No more lost keys and forgotten codes. Save time and money with reduced service afford of the locker systems.
No more "Traffic jam" in front of the locker system
The display of the system becomes a minor matter. Only one new customers need to enter their phone number once. Signed in users simply uses their app on the smartphone. Jam out - no more waiting in front of the display!
Several applications can run on one and the same locker system! Do you have ideas?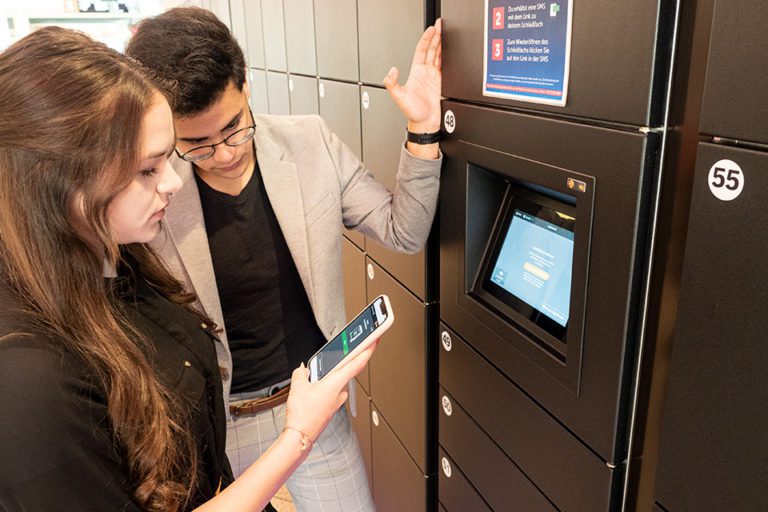 Customers enter their smart phone number on the master display and receive their digital key card via SMS. If a payment function is required, NFC terminals are available. In addition, an online payment solution can be offered to enable payment by credit card, direct debit or Paypal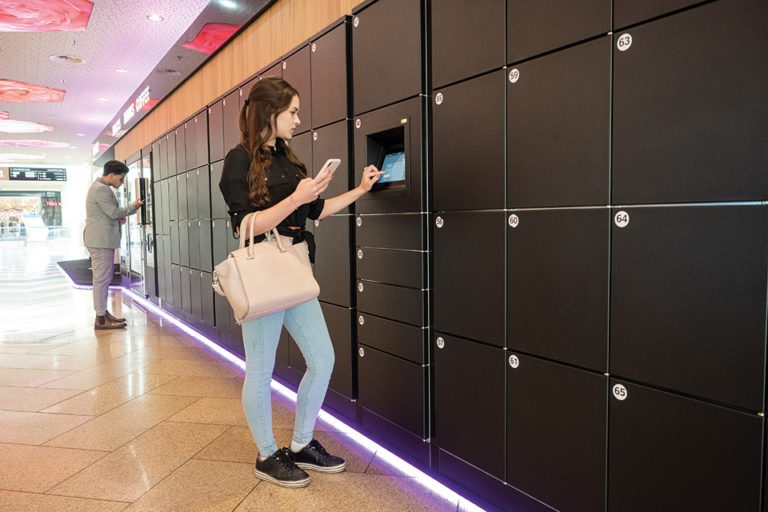 The true innovation of our VARIOCUBE system lies in the possibility of combining several applications on one locker or across facilities. The VARIOCUBE cloud leaves nothing to be desired. Our open software offers interfaces for integration into your shopping mall app or the merchandise management or online shop systems of your tenants.
Offer something new for your stores and their customers!

Attractiveness does not just come from parking lots and Christmas decorations.
A VARIOCUBE covers a great many areas and brings comfort to the customers, who are ultimately crucial for success. A customer who feels comfortable is a consistent customer. The shopping tour must be an experience and must be fun.
You can offer your stores a solution for Click & Collect, even without extensive IT integration! Offer customers lockers for their luggage, winter jackets and even shopped goods, so they can go to the nearest store or enjoy a cup of coffee - the locker becomes a collection box.
Even for service offers a shop can use the VARIOCUBE. The customer places the goods to be serviced in a compartment and after the service has been completed he gets them back in one compartment - everything runs via access code or smartphone. This can also be done outside business hours. As a rule, the facilities are available through the existing catering until late in the evening.
If you want to add a textile cleaning service in your service offer, we also have the solution for you. The automatic acceptance and delivery point for textiles as a new distribution channel for textile cleaners is readily with our system! The combination of VARIOCUBE modules for textiles and an innovative textile cleaner is your solution. Should you require support, we can also recommend our partner company Clesygroup GmbH with the cleaning service clesyclean (www.clesyclean.com). Clesygroup works with locally based cleaners and thus delivers quality from the region!www.clesyclean.com). Clesygroup arbeitet mit lokal ansässigen Reinigern und liefert somit Qualität aus der Region!