OfficeLine the individual locker for offices.
The most versatile office locker, customisable to your needs.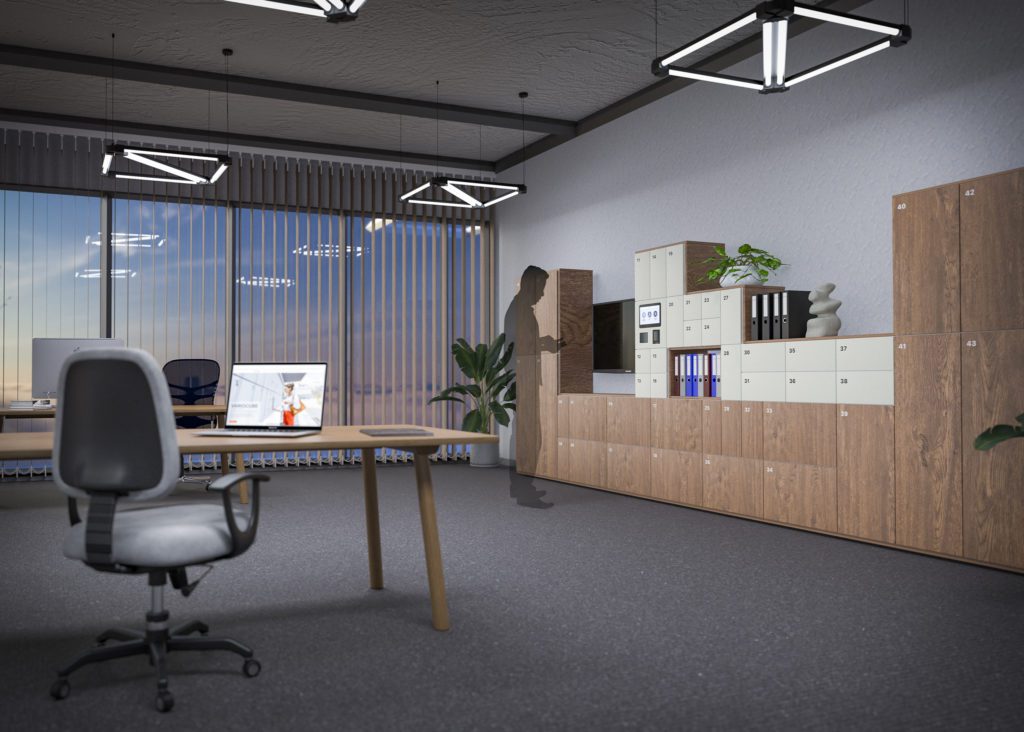 OfficeLine, the product line for intelligent locker systems in the office, offers exceptional versatility and customisability. In cooperation with a furniture manufacturer, flexible locker modules were developed that can not only be combined to form classic locker systems, but also combine form and function as room dividers, wall panelling or free-standing furniture. For this purpose, the individual locker modules can be lined up in a grid, stacked and provided with any décor. This innovative solution increases efficiency and creates an individual, aesthetic atmosphere in modern office environments.
With Variocube's turnkey applications for intelligent locker systems, you can save your employees unnecessary walking and waiting time and provide them with personal storage facilities in desk-sharing areas.
Lockers with modular structure in a design grid - ideal for your office.
The special feature of OfficeLine is the unique design grid based on a cuboid. This innovative design allows you to assemble the modules entirely according to your wishes and requirements.
The modules are available in different widths (0.5, 1, 1.5 compartments) and heights (1, 2 or 3 compartments). In addition, different compartment divisions can be planned and options added.
Individual down to the last detail with decors and surface finishes
There are numerous decors to choose from for doors and side panels: From plain colours to wood imitations and stone imitations. Various surface finishes such as high-gloss, soft-touch or natural imitations give the furniture the finishing touch.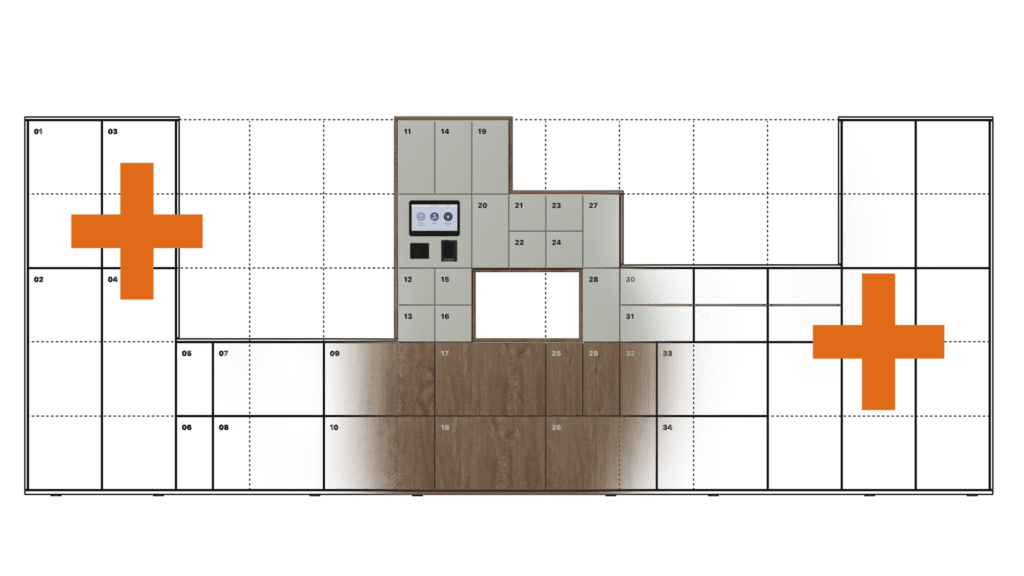 OfficeLine - versatile use in office environments.
Locker systems in office environments are extremely versatile and can be free-standing or built into niches. Thanks to their flexible composition and the use of cover panels, they can even be used as room dividers or office furniture.
OfficeLine from Variocube is tailored precisely to these requirements and offers you the ideal solution for these diverse applications. With OfficeLine, you can not only store your personal belongings, drop off parcels and much more, but also efficiently design your office environment and adapt it to your individual needs.
A locker for all types of use at the workplace.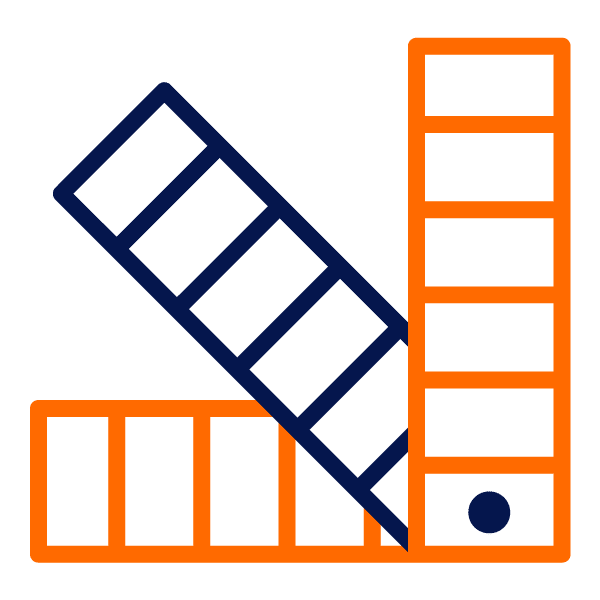 Individual in every detail
A wide selection of decors, colours and surface finishes (high-gloss, soft-touch, wood imitation) means that there are no limits to the design.
Design grid - construction kit
With the well thought-out design grid, the systems can be easily put together and are available in a short time.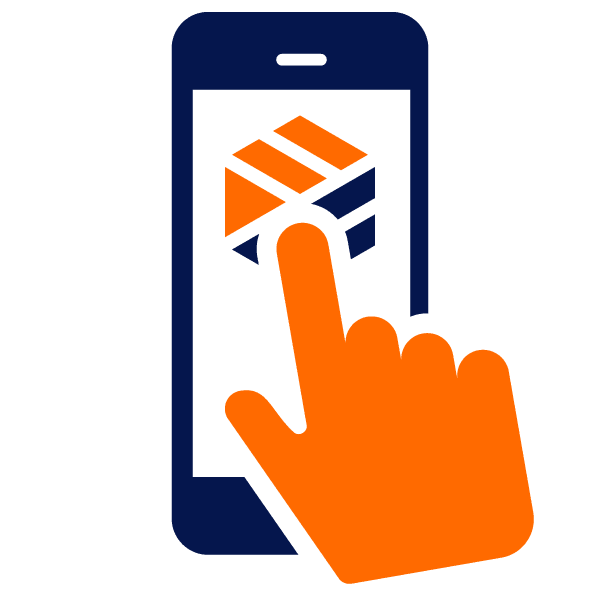 Ease of use for employees
The turnkey Variocube software applications facilitate the daily work of your employees and save time and effort. Own apps on the smartphone are not necessary.
Module overview Officeline
OfficeLine office cabinets are extremely adaptable and individually configurable. They consist of modular elements and can be flexibly assembled in different widths (0.5, 1, 1.5-fold) and heights (1, 2 or 3-fold). This versatility enables customised solutions for every type of office. The possibility of colour design means that the locker systems fit in perfectly with the office design and the modularity allows for optimal use of space and freedom of design.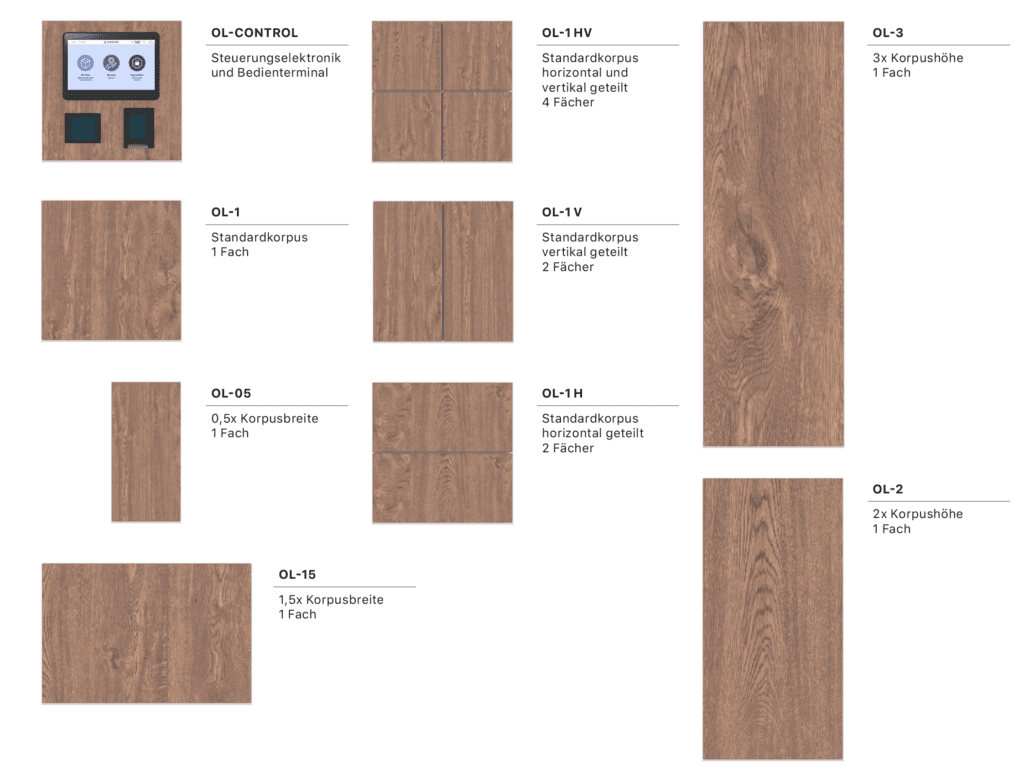 The multitool in the office - OfficeLine & Smart Locker Apps
Intelligent locker systems for companies offer a wide range of functions and application options that make everyday office life much easier. They not only serve as a personal locker for employees, but also enable efficient internal parcel and mail distribution, the collection of goods and equipment, use as an incoming mail station and much more. There are (almost) no limits to the versatility of locker systems, especially the high-quality OfficeLine from Variocube.
With one or more central VARIOCUBE intralogistics hubs, you save valuable time and unnecessary journeys for your employees and suppliers. And the best thing about it? Different applications can be combined in one system. For example, SafeCube for storage and LogisticsCube for internal mail and parcel distribution.
Easy configuration with the design grid.
Whether you need locker systems for an open-plan office, a meeting room or a corridor, OfficeLine offers you the option of individual design. Thanks to the modular structure, you can design the locker system entirely according to your ideas, taking into account both the needs of your employees and the spatial conditions. This flexibility makes OfficeLine the optimal choice for anyone looking for a customised locker system for the office.
The structure of the OfficeLine office lockers is based on a design grid in cuboid form (380 x 380 x 380 mm). Thanks to the modular principle, the height and width of the entire system can be individually determined and precisely adapted to the available space. Cover plates or panels form the lateral finish.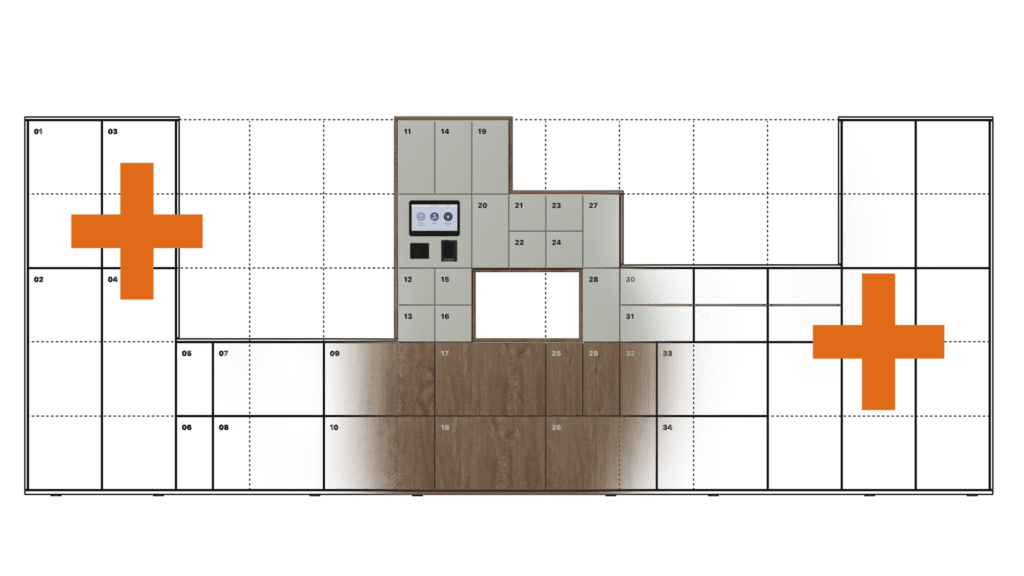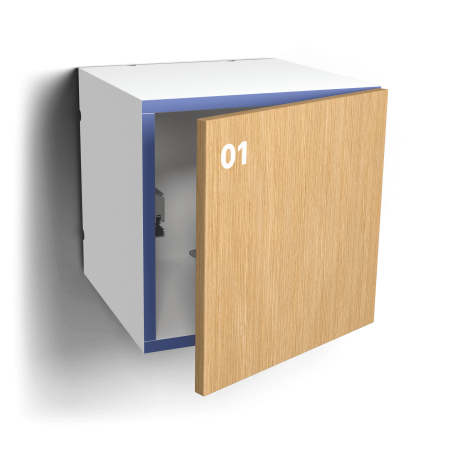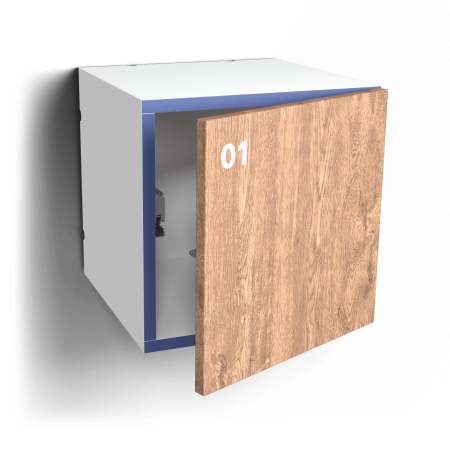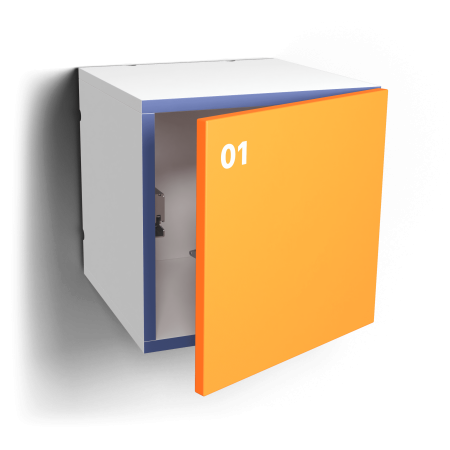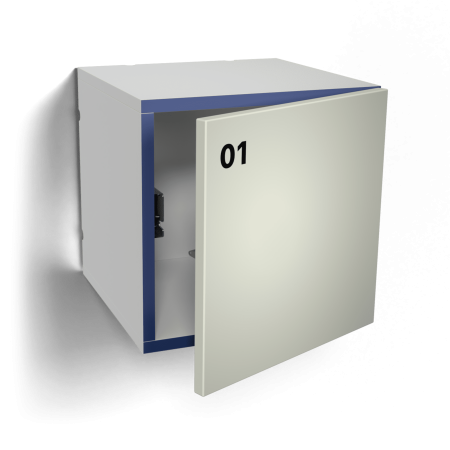 Surfaces as individual as their rooms.
What's more, with office lockers you can not only improve the functionality of your office furnishings, but also make an aesthetic statement. With the option to design the locker modules in different colours and finishes, you can perfectly integrate the locker system into the design of your office while maintaining a professional appearance. Customised locker systems that are both practical and aesthetically pleasing go a long way towards creating a productive and pleasant working environment.
Plain colours
Wood imitation
Stone replica
Design decors
High gloss
Matt
Softtouch
Anti-Fingerprint
Structures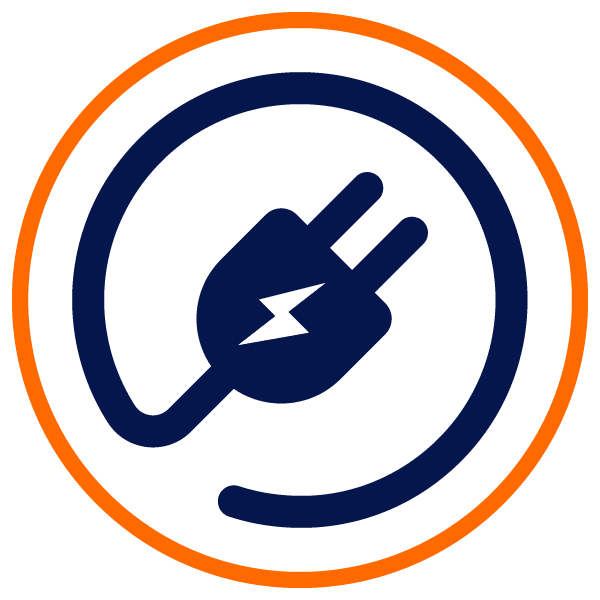 Little construction effort - the required infrastructure.
A VARIOCUBE OfficeLine parcel locker only requires a 230 volt socket and an internet connection. The internet connection is usually established by the built-in LTE router. Our CUBE Admin Center is directly connected to the cloud service of the mobile operator via an API. By operating our own APN in the LTE network, we have very extensive monitoring and security mechanisms at our disposal.
Optional scanners, readers and more...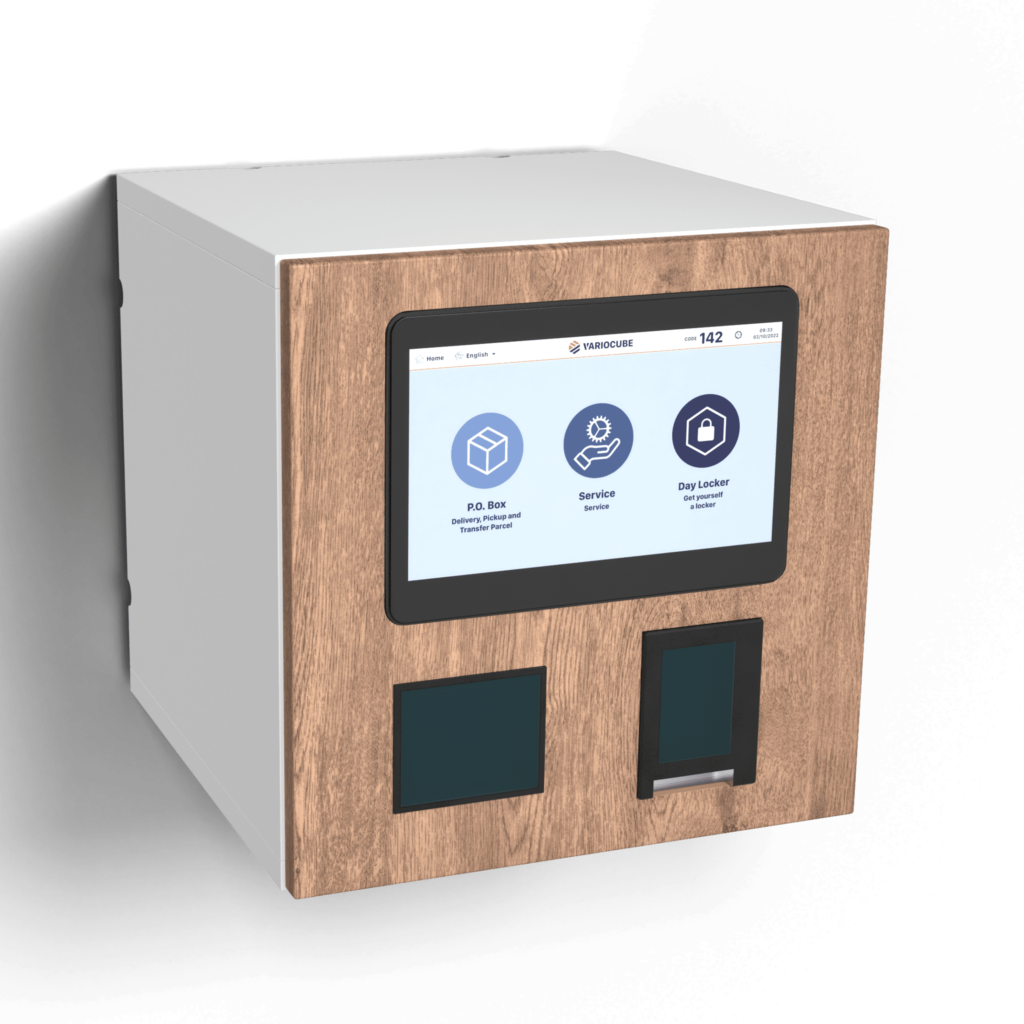 With the optional equipment options of the terminal compartment, the range of functions can be further expanded. It is possible to install various readers and scanners. 
Maximum safety for locker systems
Data security and the up-to-dateness of the software are guaranteed by professional support from the ISO 27001 certified data centre. Cloud solutions are significantly less susceptible to disruptions. If the worst comes to the worst, these are quickly remedied. You get a secure, AES256 encrypted, reliable and cost-effective solution.
The Variocube communication unit includes a firewall that blocks all inward data traffic. A Variocube locker establishes an encrypted connection to the central management system in the cloud when it is commissioned. From there, it receives its function and loads the corresponding applications.
Make an appointment for a consultation right away: