THE JACK OF ALL TRADES IN THE RESIDENTIAL COMPLEX
PO Box, Parcel Station, Outbound Shipping - all in one. So the house becomes a smart home!
A VARIOCUBE consists of an array of package lockers based on the number of flats and is set up in a residential building. Optionally, separate letter compartments with flap doors can be integrated for each unit.
Notification Features
Automatic notification of recipients at Inbox
Maintenance and Administration
Extensive maintenance and administration tools
Self Onboarding
Residents only need to get a link to the system. Registration, maintenance and adding family members to the account happens by the users themselves.
Do you have an estate project in planning? Get an offer now and secure your prize!
During the planning phase information about the dimensions, the scope of functions, the design and the price is needed. At this time, planning, marketing and sales usually deal intensively with this topic. For the attractiveness of your project, a reasonable solution for the receipt of goods plays an essential role! For an innovative and future-oriented residential property, a VARIOCUBE is a must!
Ask our sales department for our offer for early buyers. If you place your order early enough, a small deposit will secure an attractive project discount!
You do not want or can not accommodate the VARIOCUBE unit in the construction costs? No problem! We also offer a pure All-In rentalsolution for our VARIOCUBEs. Get in touch with our sales department. Our rental offer is currently the "Hit".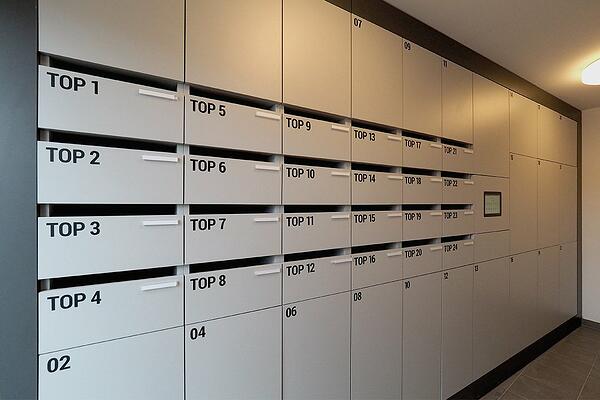 The users register themselves via the website of the facility or are recorded centrally by the property management. The parcel compartments are allocated dynamically for each consignment and released again after parcel pick up. Mailboxes with mail slot are usually permanently assigned to the users. An administration interface is available for the administration of the users. If a homeowner orders goods online, the parcel delivery agent can deliver the goods to a locker in VARIOCUBE, regardless of the physical presence of the customer.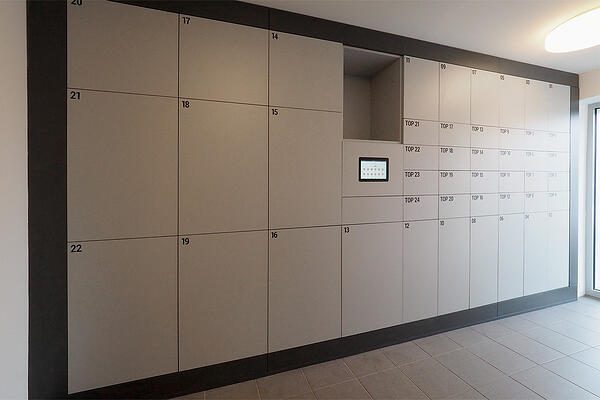 The customer will be informed by e-mail about the delivery (optional via SMS). He receives a pick-up code with which he can collect his consignment from the locker - at any time completely independent of the delivery. Also, any goods handing over / return shipping can be handled easily via our VARIOCUBEs. The user simply places the return shipment in a locker and transmits the pickup code to the consignor, which pick-ups the goods from directly to the locker.