Variocube Software - Always suitable for your requirements.
From turnkey solutions to customised software.
Due to the interdisciplinary approach of our team and meanwhile more than 20 years of experience in the areas of online business applications and IoT systems, we were able to create a flexible and highly scalable software for our CUBEs.
Based on our many years of experience in the realisation of smart locker systems and software applications, we offer applications such as POBox, SafeCube, ServiceCube and Click & Collect as standard in the portfolio. You benefit from fast implementation, low set-up effort and a wide range of functions. In addition, we also offer our customers Individual solutions for special wishes and requirements of hardware and software. Thanks to the available interfaces, our applications can be perfectly integrated into your existing systems and processes.
Cloud Software. Secure and efficient.
With our cloud solution, you reduce costs compared to on-premises solutions. The security of their data and the up-to-dateness of the software is increased by the professional support of the ISO 27001 certified data centre. 
Cloud solutions are affected by disruptions much less frequently or, if the worst comes to the worst, they are remedied very quickly. They do not have to place an additional burden on their IT and save personnel and working time.
You get a secure, AES256-encrypted, GDPR-compliant, reliable and cost-effective solution.
Interfaces to your systems.
Thanks to our open interfaces (API), the smart lockers can be integrated into existing software solutions, e.g. ERP, CRM and shop systems, employee databases and much more.
cloud-based microservice architecture:
Scalable – it can be scaled horizontally at any time.

 

Reliable – Essential services are distributed across multiple sites or closely monitored.
Current – through our continuous delivery process based on Kanban, all our customers are always up to date.
Secure – AES256 encryption enables secure data transmission and prevents the opening of compartments by third parties.
Turn-key software solutions - easy to integrate.
With our applications POBox, SafeCube, ServiceCube, Click & Collect, RentalCube and LogisticsCube we offer turnkey solutions for the most common application scenarios. As a result, you benefit from simple integration with manageable set-up effort.
Smart Solutions - to suit your requirements.
Together with our clients, we identify the existing requirements and develop solutions in partnership that master these challenges, accelerate processes and simplify handovers.
Of course, we also adapt the software to your requirements. Both the user interface and the workflow can be freely designed thanks to state-of-the-art web technology. Depending on the application, we create an individual web application specifically for your needs. By using our frameworks, your
Business processes are mapped quickly and cost-efficiently.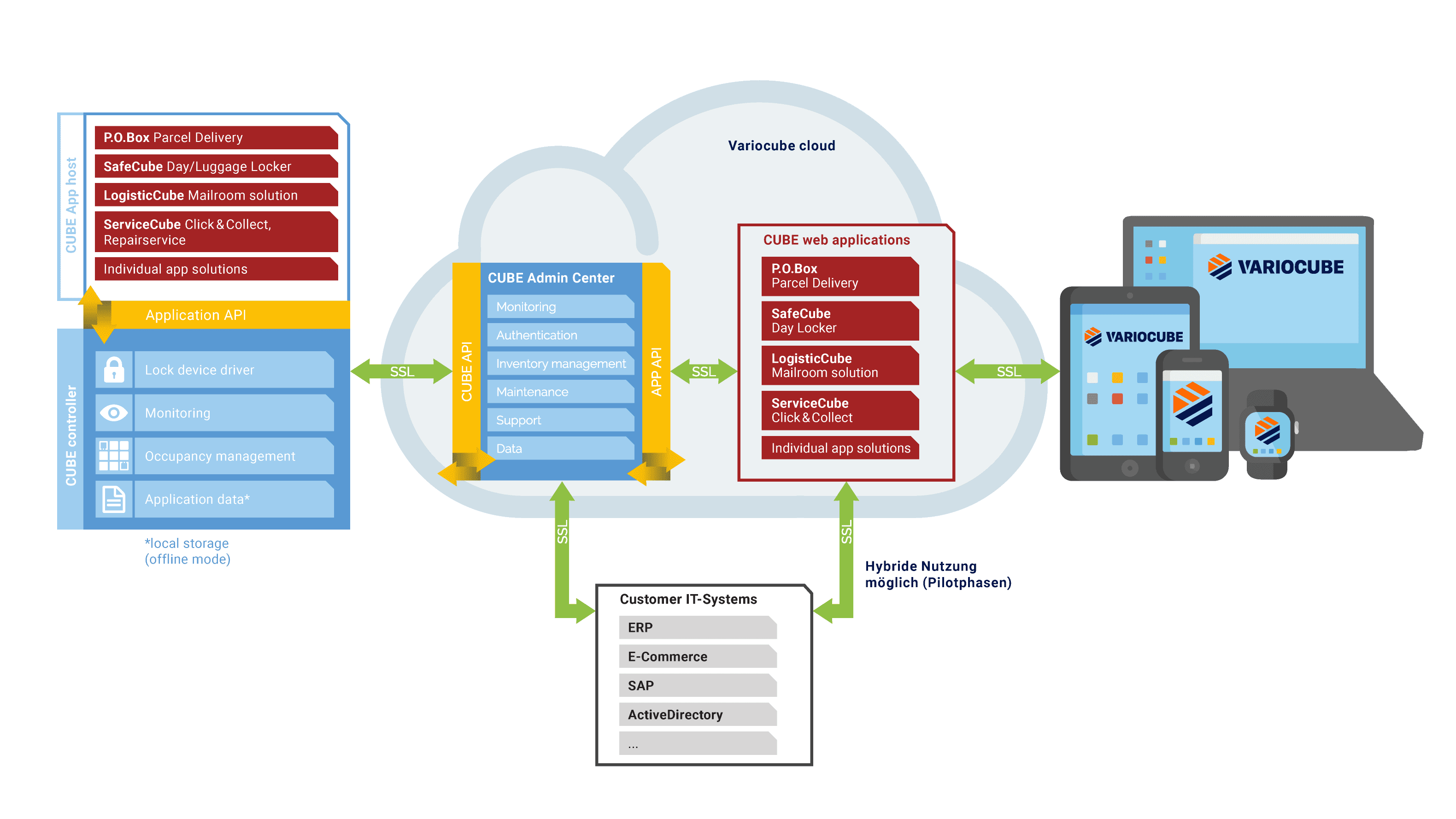 No problem! Our web architecture allows you to control any number of locks in any number of locations around the world.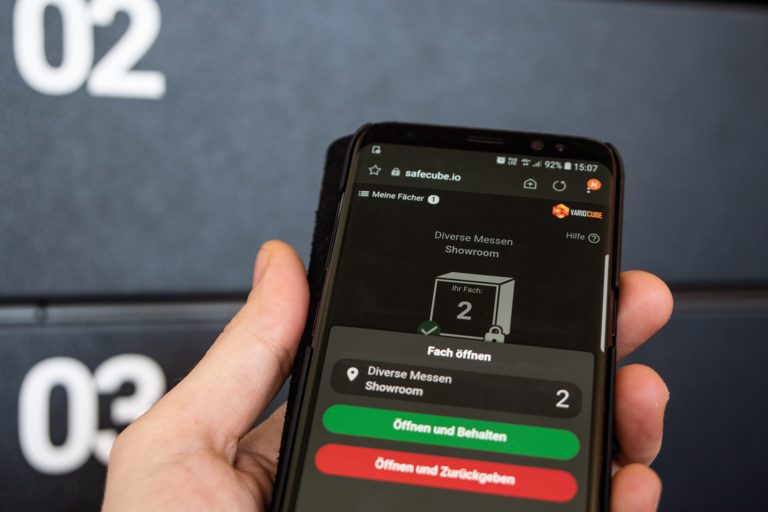 CUBE-Controller with REST API
Our CUBE controller brings electronic lockers to the web via state-of-the-art REST API. By using a Java-based microservice architecture, the highest flexibility in the solution as well as platform independence are achieved.

You can also implement projects yourself for our App Host. Each lock is accessible via a globally unique address (URL) and offers an extensive REST API. We can guarantee fast and easy implementation as well as stable operation through the power of diverse software libraries that are available to us.