Smart pickup station for gas cylinders
Easy transfer of LPG cylinders to residential and commercial customers.
Almost everyone who uses gas cylinders knows that the gas always runs out at the most inconvenient times, especially outside opening hours or on Sundays. A smart pick-up station for gas cylinders offers a solution here.
But also on the dealer side, the sale of gas cylinders can often represent a significant additional expense. Customers often arrive at off-peak times, or in the worst case, only one employee is in the store and has to lock it to fetch a cylinder.
Genau für diese Szenarien ist eine smarte Abholstation für Gasflaschen von Variocube ideal:
Voll digitalisiert, angebunden an ihr ERP-Systeme oder als eigenständiges System auch mit Onlineshop. Die Bezahlung kann an der Kasse über den Onlineshop oder am Terminal erfolgen. Ihre Kunden erhalten so zu jederzeit die passende Gasflasche. Auch am Wochenende pünktlich zur Grillfeier.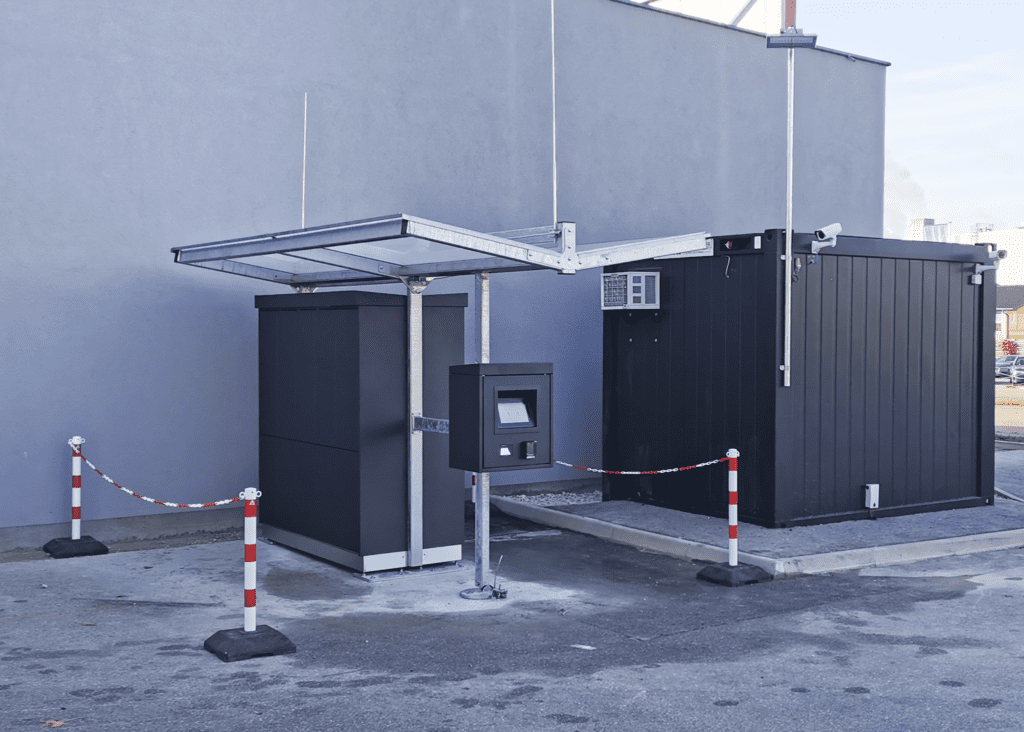 Challenges for the trade in dealing with gas cylinders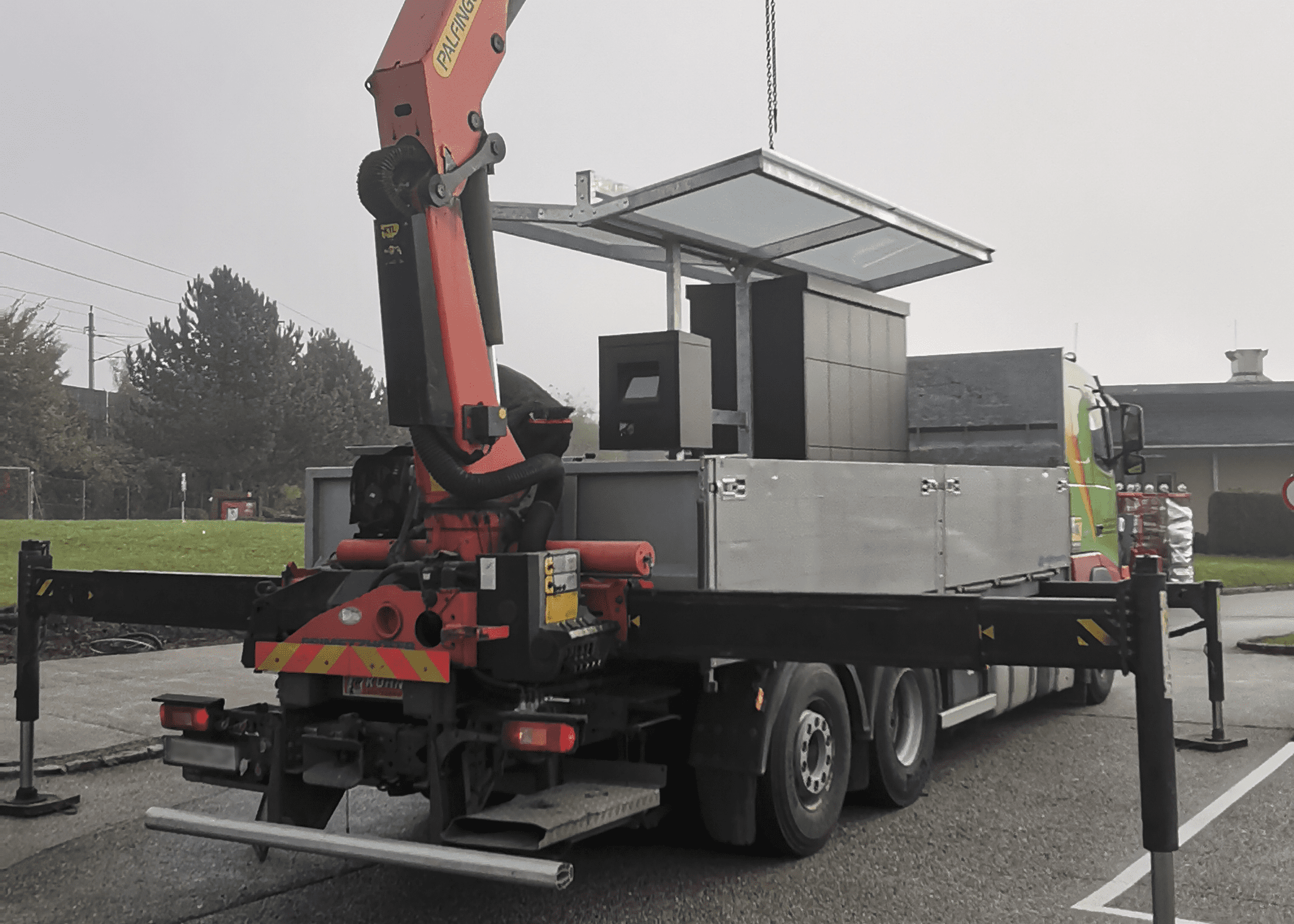 Simple assembly - craneable unit
The Variocube automatic gas bottle dispenser can be supplied as a ready-made, craneable unit. Assembly and commissioning on site are therefore possible very quickly. Even subsequent changes of location can be carried out easily and cost-effectively; all that is required is a suitable base and a 230V power connection.
Integration into your ERP system
With more than 20 years of experience in we can offer you an optimal solution for the connection of your connection of your IT systems. Due to the fact that the systems are cloud-based cloud-based, all you need is a connection to our VC-Core system and you can control all your control all your systems. Scaling your business model, which involves a larger rollout, is therefore child's play after the first system has been commissioned!
How can the transfer of gas cylinders proceed?
The gas cylinders are kept in stock at the plant.
The customer pays for the gas cylinder in the store at the checkout or in the online store.
Es wird ein Abholcode ausgegeben mit welchem das entsprechende Fach geöffnet werden kann. (*)
The gas cylinder is removed and deducted from the storage level in the system.
(*) Bei Bezahlung am Terminal der Anlage öffnet sich das entsprechende Fach nach Abschuss der Kaufprozesses.

Verfügbare Payment-Optionen für Ihre Abholstation für Gasflaschen.
To offer all customer groups the greatest possible shopping convenience, you have the option of using a wide variety of payment systems or combining them freely.
In this way, a suitable customer journey can be offered to every customer. Whether it is the classic purchase with subsequent payment at the checkout or the spontaneous purchase decision after closing time directly at the terminal.
Specially adapted hardware.
Maximum safety - electronics separated from gas.
Special attention had to be paid to the safety of the installation with regard to explosion and fire hazards:
The operating terminal was designed as a separate unit in order to realise a spatial separation of the current-carrying system parts from the stored gas cylinders.
Special locks are used to exclude the possibility of sparks.
Variocube automatic gas cylinder dispensers therefore meet all safety standards and specifications.
Cabinet system with adapted dimensions.
In order to make optimal use of the available space, the dimensions of the lockers have been adapted. Since gas cylinders do not require the ProLine standard depth of 650mm, a new compartment depth of 350mm was produced. The units are therefore narrower, which means that the available space can be used better and the required installation area is reduced overall.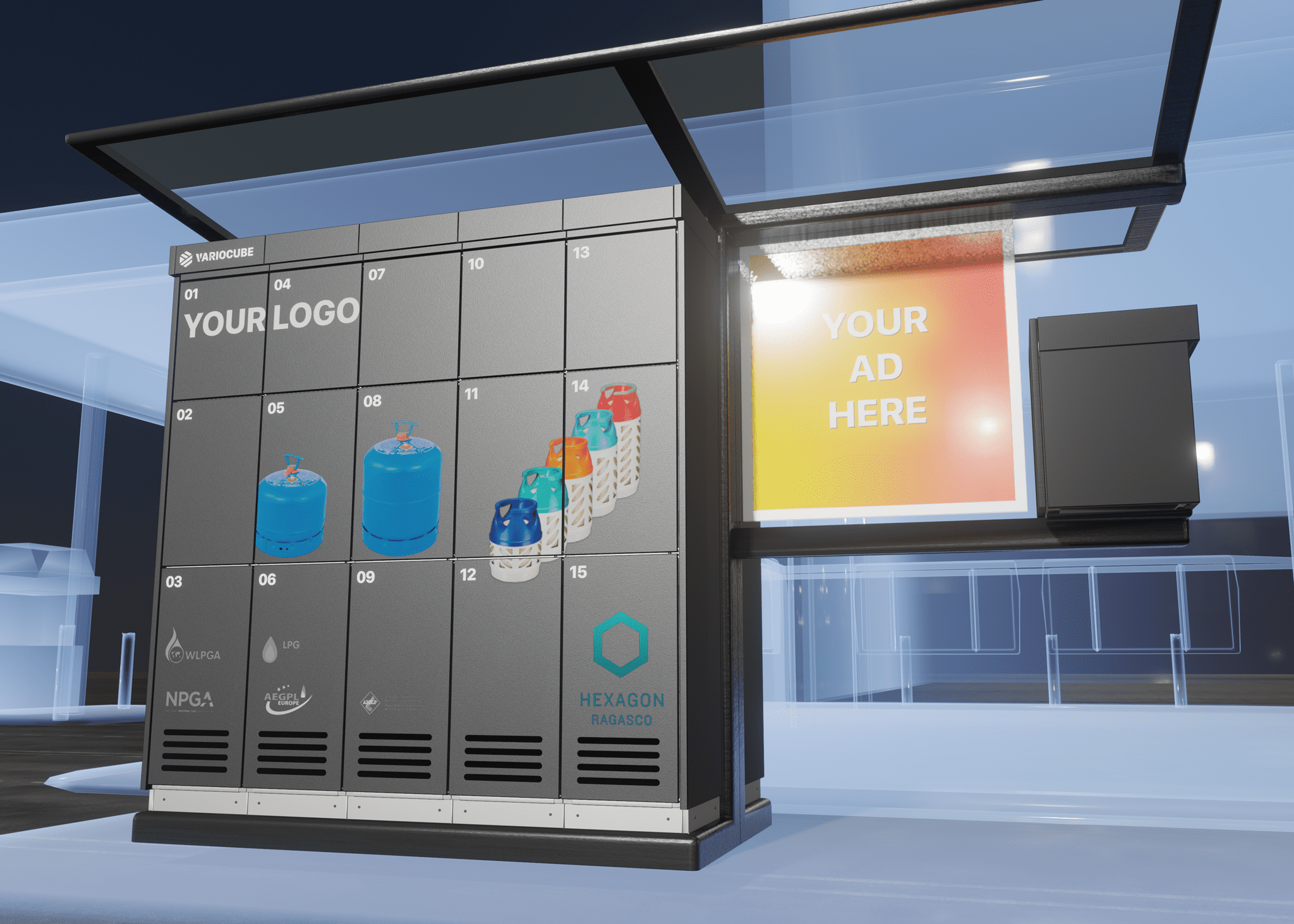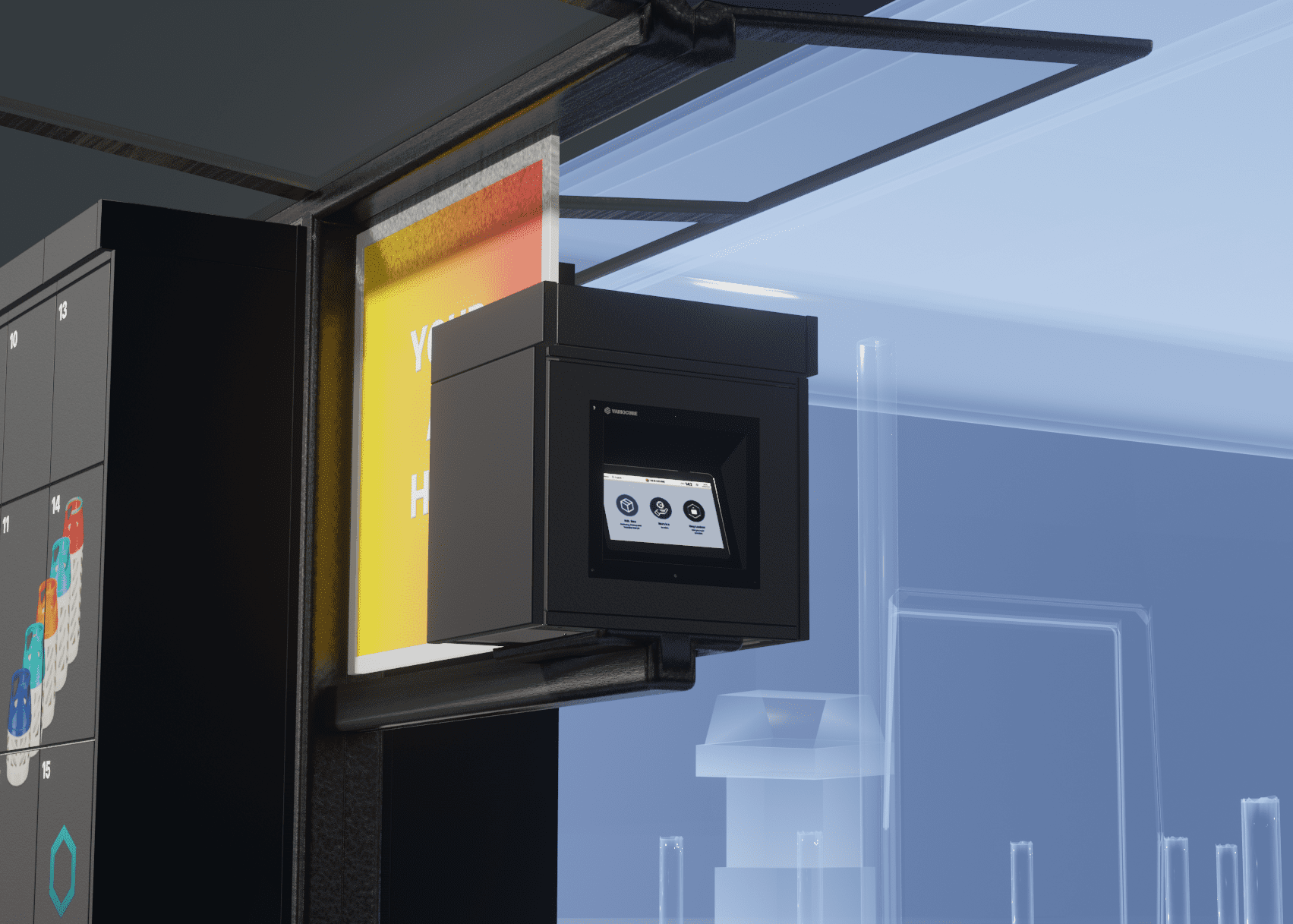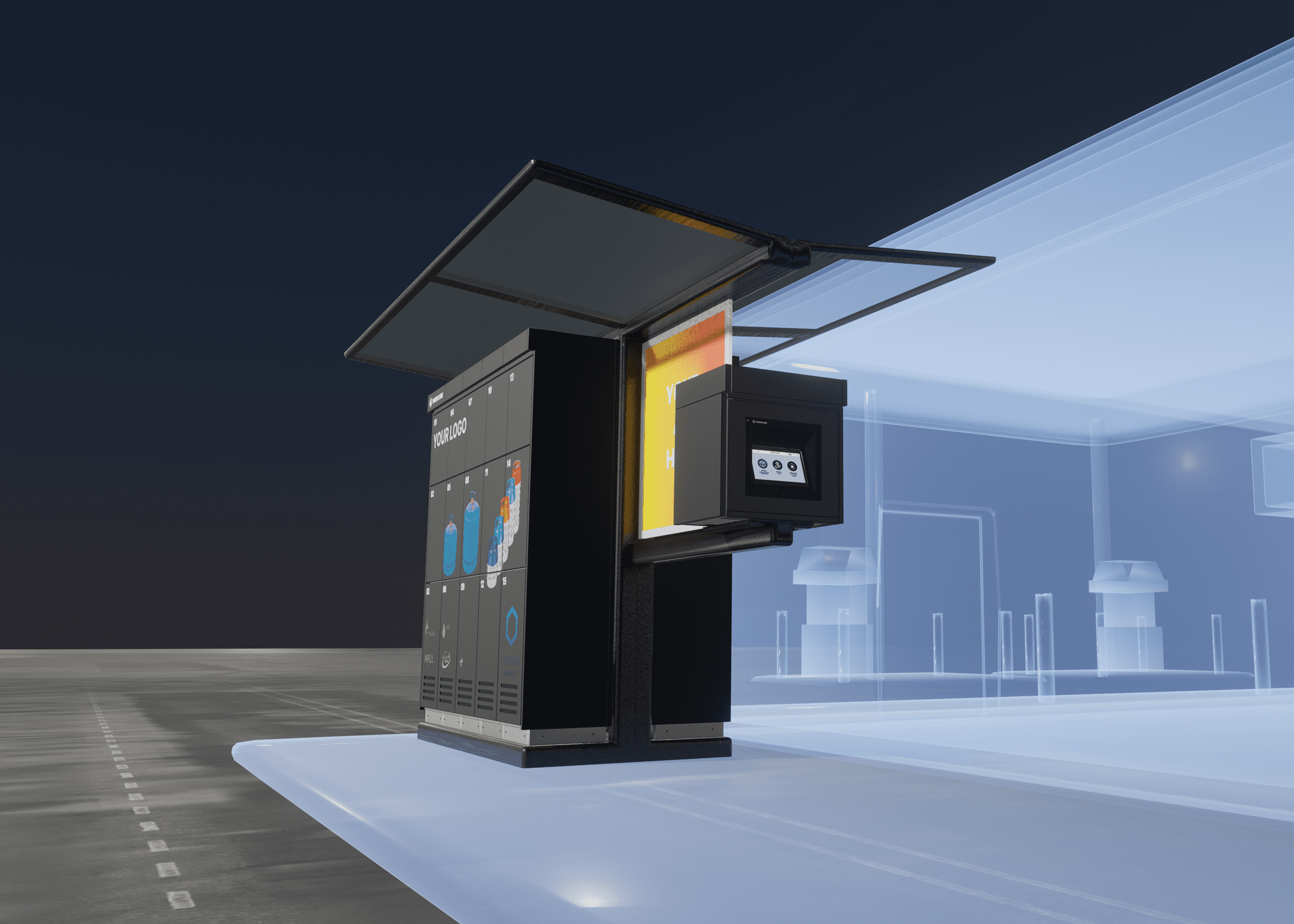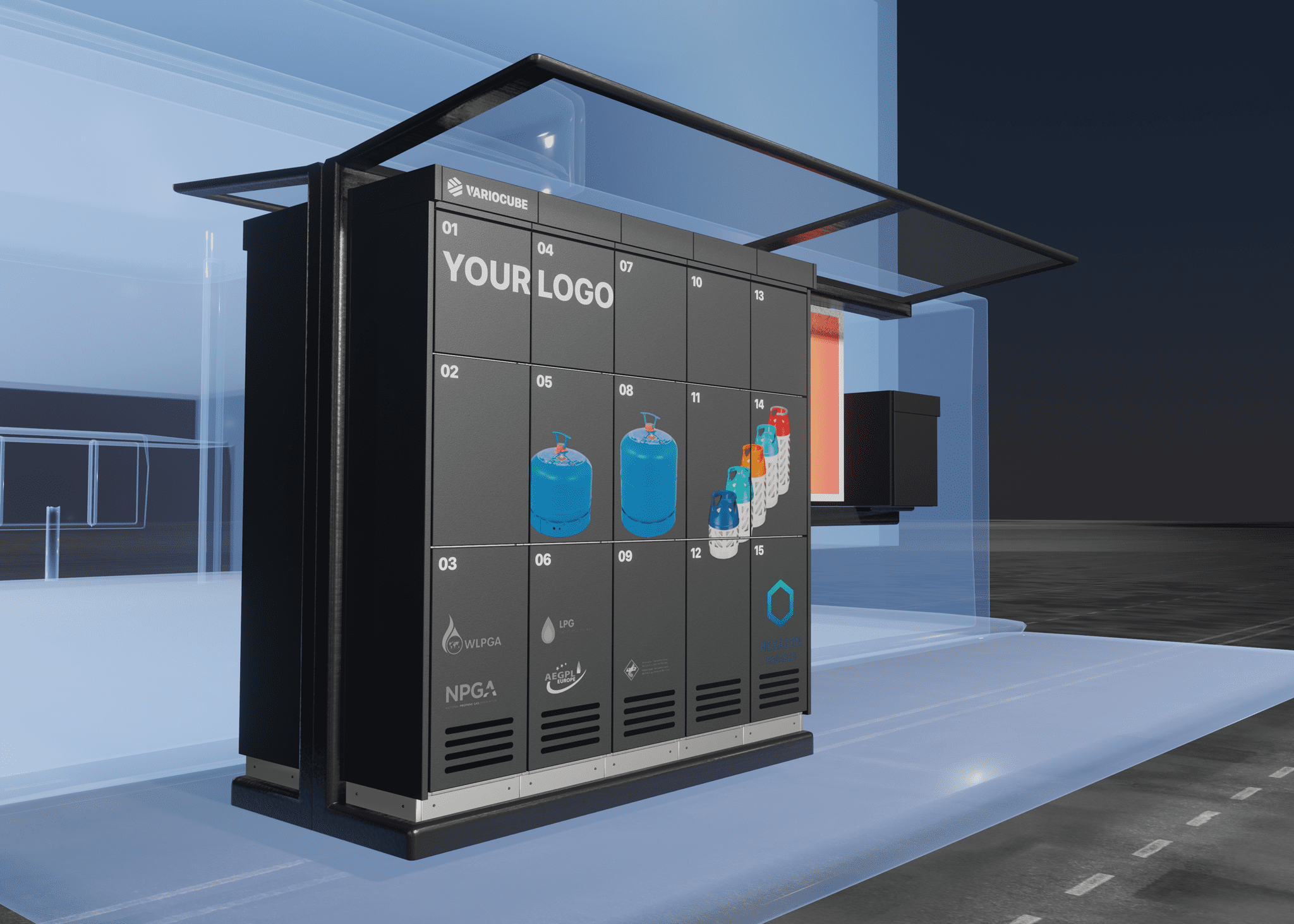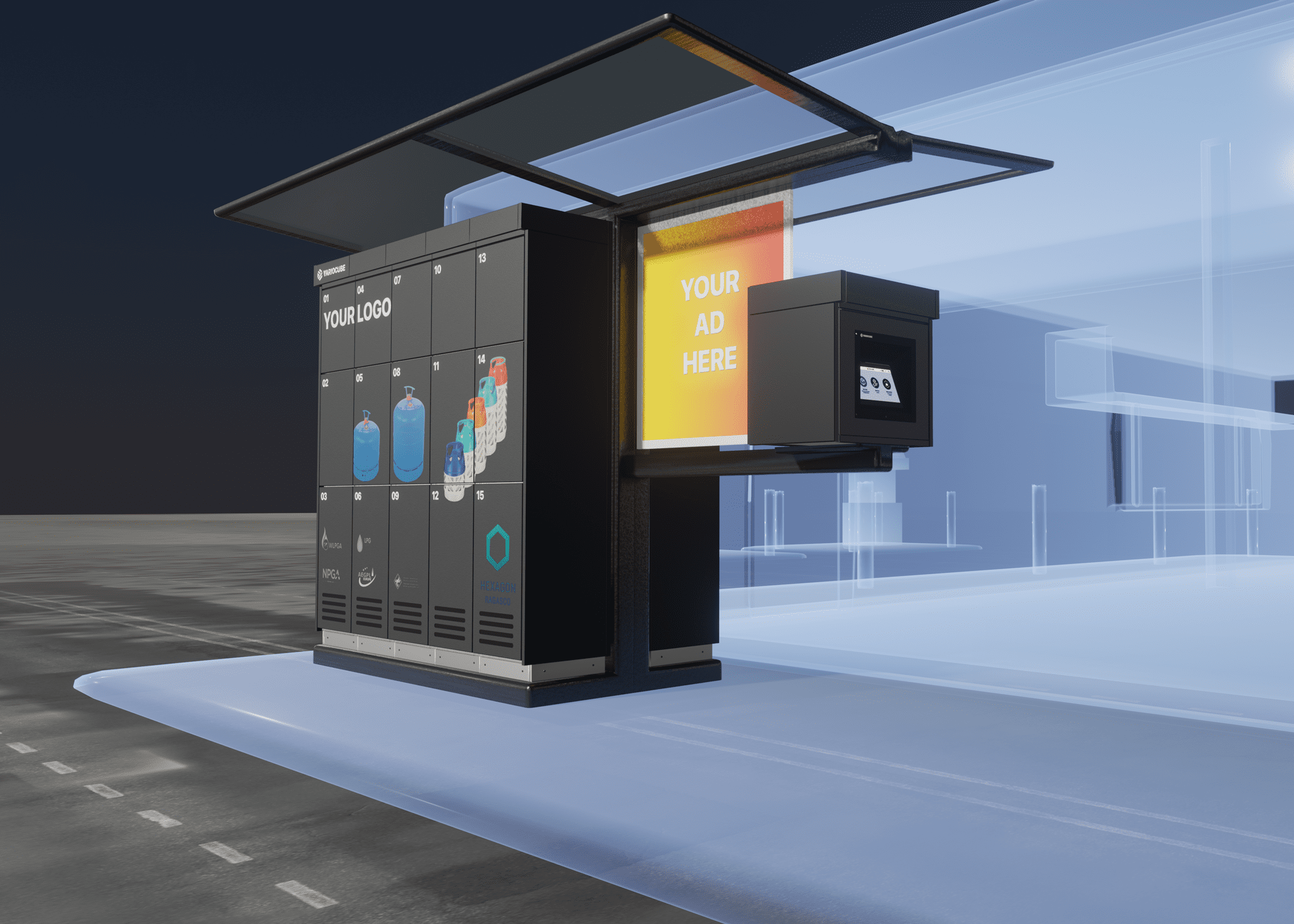 Variocube ProLine Module
10 x VC-3S-G
1 x VC-T-G
Compartment interior sizes [W x H x D mm] 
10 x 3HE: 320 x 430 x 350
10 x 4HE: 320 x 580 x 350
10 x 5HE: 320 x 730 x 350 
Frame construction
Quality product - Made in Austria,
exceptionally stable executed in metal.
Jetzt Übergabeprozesse mit einer Abholstation für Gasflaschen optimieren.