In today's fast-paced world, parcel stations have become an integral part of our everyday lives. The new inclusive parcel station from Variocube is an innovative solution to give everyone access to this important service.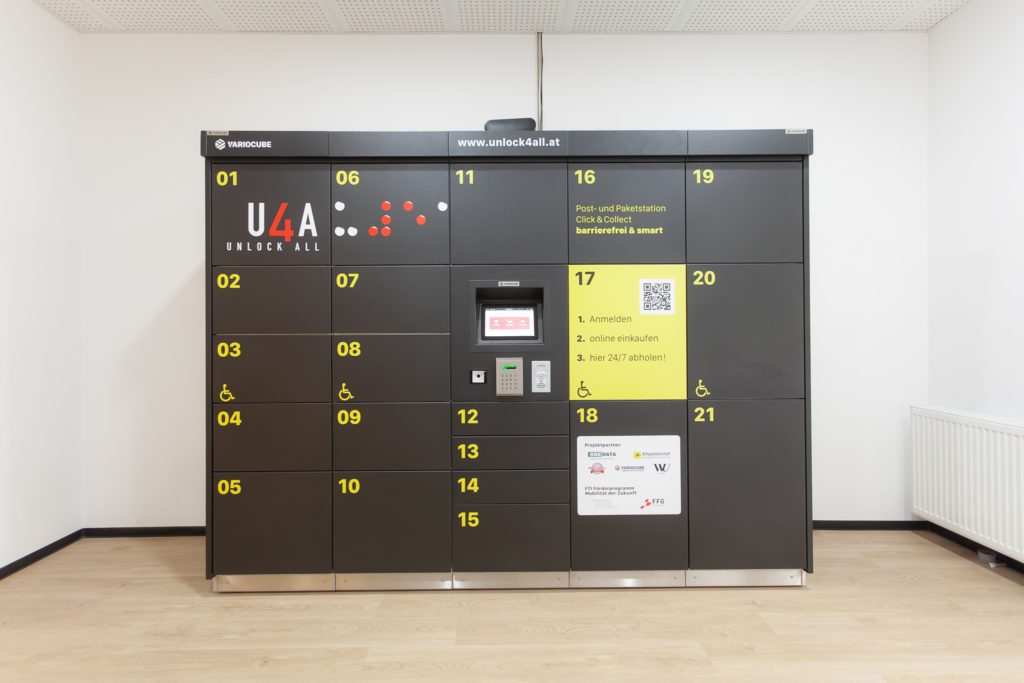 Customised, inclusive parcel stations that can be used by everyone.
Variocube has developed barrier-free parcel stations that are specially tailored to the individual needs of people with disabilities. Thanks to intelligent functions and different user profiles, the parcel stations can be used without unnecessary hurdles so that parcels can be received around the clock by all user groups.
Functions of the inclusive parcel station
The Inclusive Parcel Station offers a range of special functions designed to cater for different types of disability:
Voice output

Code entry via keypad
Buzzer for localising the open compartment
Pull-outs for wheelchair users
Visual orientation aids for the visually impaired
Variocube's inclusive parcel stations were developed as part of the UnLock4All project. This project aims to address the challenges of parcel delivery, in particular the frequent lack of accessibility for recipients at parcel stations and the transport of large and heavy parcels from the station to their home. By thoroughly investigating the areas of accessibility, addressing and mobility solutions, developing new ideas and involving people with different disabilities in the design process, UnLock4All aims to develop inclusive solutions that enable parcel receipt for all user groups2.

Variocube's accessible parcel stations are more than just a convenient way to receive and send parcels. They are a step towards a more inclusive society by ensuring that everyone has the opportunity to use this important service.