"First Class Shopping" is not only the motto of the PlusCityThe shopping centre on the outskirts of Linz also sets standards in terms of visitor service. As an important part of the premium shopping experience, the centre operators have been using smart locker solutions from Variocube since 2017, which have been cleverly integrated into the interior design. With 175,226 openings in 2021, the locker systems in PlusCity are among Variocube's busiest.
The PlusCity near Linz is the premium shopping centre in Upper Austria's central region with a catchment area that extends far beyond it. With 220 shops, 49 restaurants and cafés, a children's adventure land and an IMAX and 4DX cinema, it offers around 13 million visitors a first-class shopping experience every year. The PlusCity is particularly easy to reach by tram. A dedicated tram stop takes visitors directly to the centre on dry feet. In addition, 5000 parking spaces and numerous bicycle stands are available.
In 2017, the decision was made to redesign the main entrances and to create new entrances for visitors. Locker systems for shopping, valuables, winter clothing and the like. The choice fell on smart locker systems from Variocube. "We were convinced by the easy usability of the system; visitors only need their smartphone to book a locker. The high-quality look is also convincing," explains Horst Kolar, Head of Technology & Centre Management. Since then, every main entrance has a locker system.
Correct positioning enables new types of use.
"The old lockers were on the ground floor behind the Infopoint. You always had to go there to store items, and a possible shop area was blocked as well." Therefore, the decision was made to develop a concept that would Locker systems integrated into the generously dimensioned main entrances. If you enter PlusCity today via one of these, you will find a versatile solution: vending machines for drinks and snacks, ATMs, high tables, seating niches and, last but not least, sufficient storage space in smart locker systems. 
The vending machines and the locker systems were integrated into a modern shoring system by a joinery company, resulting in a closed, continuous wall. In this way, everything fits perfectly into the interior design of the centre. "It makes sense to position such installations along access routes. This way, visitors have their hands free as soon as they enter the centre, regardless of whether they arrive by tram or car. This makes the whole shopping experience even more pleasant and invites people to stay longer." Purchases are also quickly stowed away in the locker in order to take a break in one of the numerous restaurants.
"We were convinced by the ease of use of the system; visitors only need their smartphone to book a locker. The high-quality look is also convincing.
Horst Kolar, Head of Technology & Centre management
Ease of use reduces maintenance. 
According to Mr Kolar, the ease of use for the user:in is also noticeable in the maintenance and upkeep costs: "Thanks to the operation via the touch panel and the visitor's smartphone, we only have to rush to help in the rarest of cases. Previously, colleagues had to replace forgotten keys, repair jammed locks or, if the user:in forgot the combination, open the locker with the emergency key. This often took a lot of time and caused creeping costs as other important work was delayed." 
Since the introduction of the smart locker systems, users can simply book a locker via smartphone and open and close it as often as they like. There is no need to register again for a subsequent visit. You can already make the booking on the way to the facility and thus save even more time. 
"With 175,226 openings in 2021, the facility is in the PlusCity Among the most used Locker systems. A low failure rate and reduced maintenance costs pay off for the centre operators. We rely on Austria as a production location for our locker modules and only use industrial-quality components," explains Franz Moser, COO at Variocube.
Fast support and data security.
The operators are also satisfied with Variocube's customer support: "Whenever we get stuck, Variocube's support is quick to respond. Communication is very good and they always try to find a solution quickly. "We attach great importance to competent support in order to enable the smoothest possible operation. With our turnkey solution SafeCube for rental lockers, such systems are ready for use in a short time, the processes are predefined and running stably in numerous installations. Through the Cloud service Franz Spindler, CEO of Variocube, adds: "The user data is also in good hands thanks to the high security standards, compliance with the DSGVO, server locations in Europe and encryption.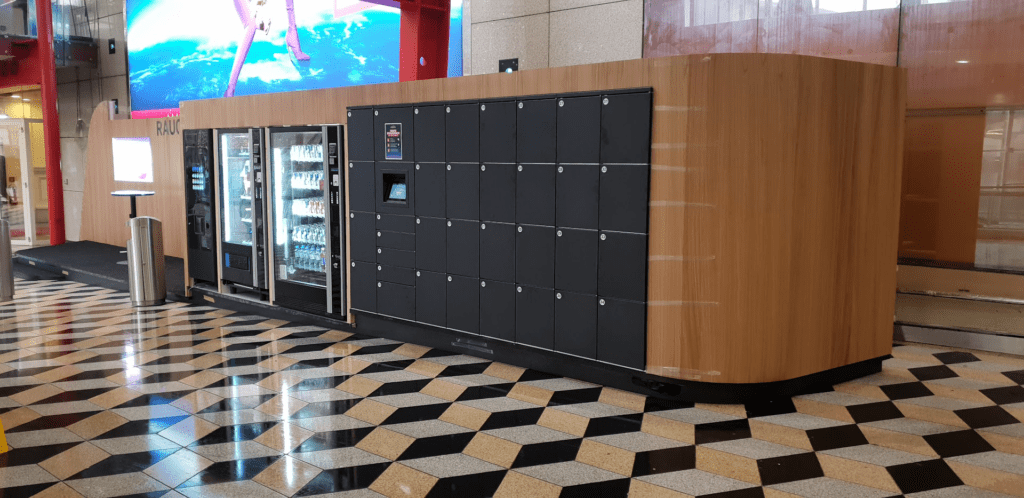 Satisfied conclusion after 5 years of use:
"The system works and is low-maintenance. If we should ever get stuck, Variocube's support has always been quick to come up with a solution. For our visitors it is a comfort gain and is very well accepted. Another advantage is "that the systems can be easily extended at any time if necessary". - Mr Kolar is satisfied.
Keyfacts:
Field of application:
Lockers for visitors
Software application:
SafeCube

Hardware:
VC ProLine 650-460 Master VC ProLine 650-460 / 3 compartments VC ProLine 650-460 / 4 compartments