Variocube at Parcel+Post Expo 2022
Here you will find all the information about the solutions shown.
Thank you for visiting our stand.
In the documents listed here and the links to the product pages, you will find all relevant information on the locker systems on display and the intelligent software solutions. 
Intelligent software solutions for the mailroom/post office.
Our latest development simplifies processes in internal parcel and mail distribution. With LogisticCube, companies save time and money and improve their carbon footprint by eliminating inter-site transports.
Brochure: LogisticCube – Smart solutions for your mailroom
EN / PDF / 04.2022
Integrator-Kit – smart locker for everyone.
Locker systems are making their way into more and more areas of daily life. The fields of application are wide-ranging and concern both the private and the business environment. Be it the reception of parcels in one's own apartment building, the collection of goods at a Click & Collect pick-up station or the mere storage of luggage in tourism. In all cases, it is possible to equip the locker systems with intelligent systems so that they can be controlled with smartphones, chip cards or codes.
Brochure: Integrator-Kit – smart locker for everyone. 
EN / PDF / 10.2022
PO Box, Parcel Station, Parcel Shipping - All in One
A Variocube parcel locker consists of any number of parcel lockers adapted to the number of residential units. Our lockers withstand even the harshest weather conditions, so they can be placed inside the building or in the outdoor area of the apartment complex.
Brochure: Parcellocker for residential and office buildings 
EN / PDF / 09.2022
Research projects pave the way to the future.
Through our research collaborations with various initiatives and companies, we are constantly working on new, improved equipment, software features and accessibility. One of these projects, the Tailormade Functional Steel, will give an insight into the future of shelving as a prototype at the fair.
Info sheet: The future of shelving & research projects
EN / PDF / 10.2022
VC KeyLine key safes
Until now, handing over vehicle keys was not very smart, but this is changing from now on. Thanks to our newly developed lockers and the appropriate software for key handover, keys and vehicles can be picked up and returned at any time 24/7. The perfect solution for rental, service and test drives.
Product sheet: KeyLine key safes
EN / PDF / 10.2022
VC MobileLine – the mobile locker
The MobileLine locker system was specially designed to meet the requirements of event organisers and equipment rental companies. Its compact size and robust wheels make it easy to transport to any location. By using our SafeCube app, guests can easily book a locker via their smartphone. All this without having to queue for a long time at the cloakroom as before.
Product sheet: VC MobileLine – the mobile locker
EN / PDF / 10.2022
Our ProLine locker modules and software.
Our innovative, flexible locker systems are designed and manufactured to the highest quality standards. This means you get a durable, hard-wearing locker system with a long service life and low service costs.
Hardware and software overview ProLine.
EN / PDF / 10.2022
One locker, many possible applications
Smart lockers are being used more and more frequently in a wide variety of places, whether in companies, universities, shopping centres and many more. Genauso breit fallen die möglichen Einsatzzwecke aus. Mit Hilfe von smarten Systemen lassen sich Prozesse optimieren, Kosten reduzieren und die Effizienz steigern. Whether as a transfer point for goods and defective equipment, for renting tools, for receiving parcels, for internal mail distribution, as a daylocker or for selling gas cylinders: The locker is the multitool in your building.
Hospitals
Valuables storage, document transfer or secure lock.
Custom Solution
Order development to suit your requirements
The software - applications that increase your efficiency
Based on our many years of experience in the realisation of smart lockers and software applications, we offer applications such as POBox, SafeCube, ServiceCube, Click & Collect, RentalCube and LogisticsCube as standard in our portfolio. You benefit from fast implementation, low set-up effort and a wide range of functions. In addition, we also offer our customers individual solutions for special wishes and requirements for hardware and software. Thanks to the available interfaces, our applications can be perfectly integrated into your existing systems and processes.
The hardware - Modular locker in industrial quality
Our innovative, flexible, modular locker systems are designed and manufactured to the highest quality standards. You get durable, long-lasting lockers with low service requirements. The electronic components used, such as controllers and touchscreens, meet industry standards to ensure long-lasting durability. All this is Made in Austria - so we meet the highest quality standards.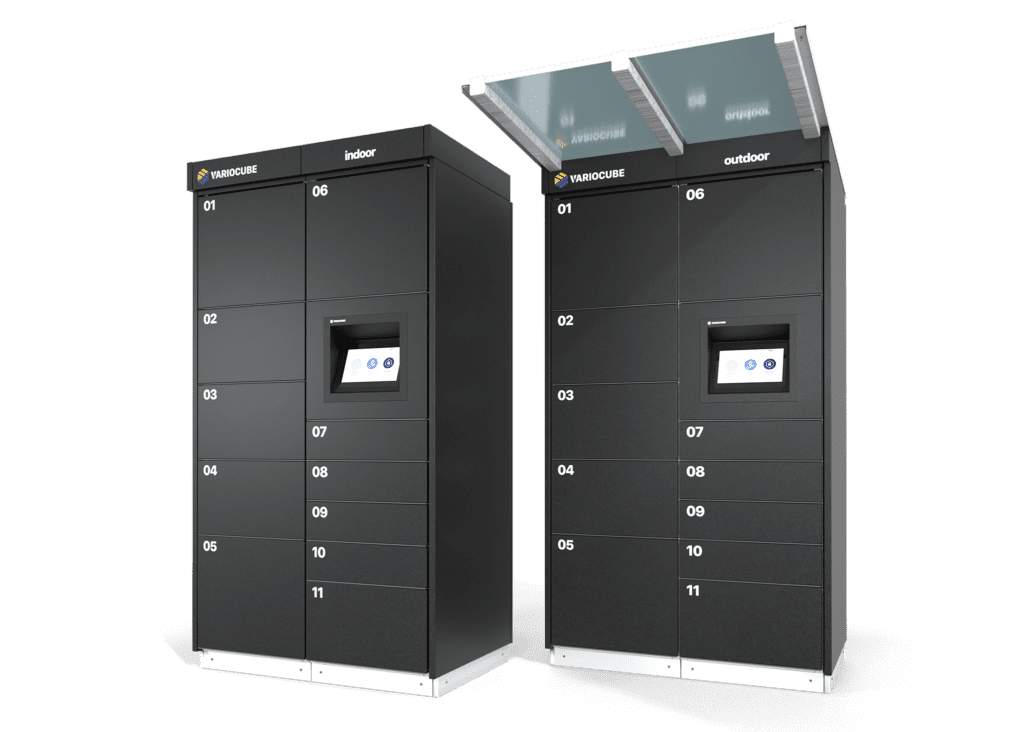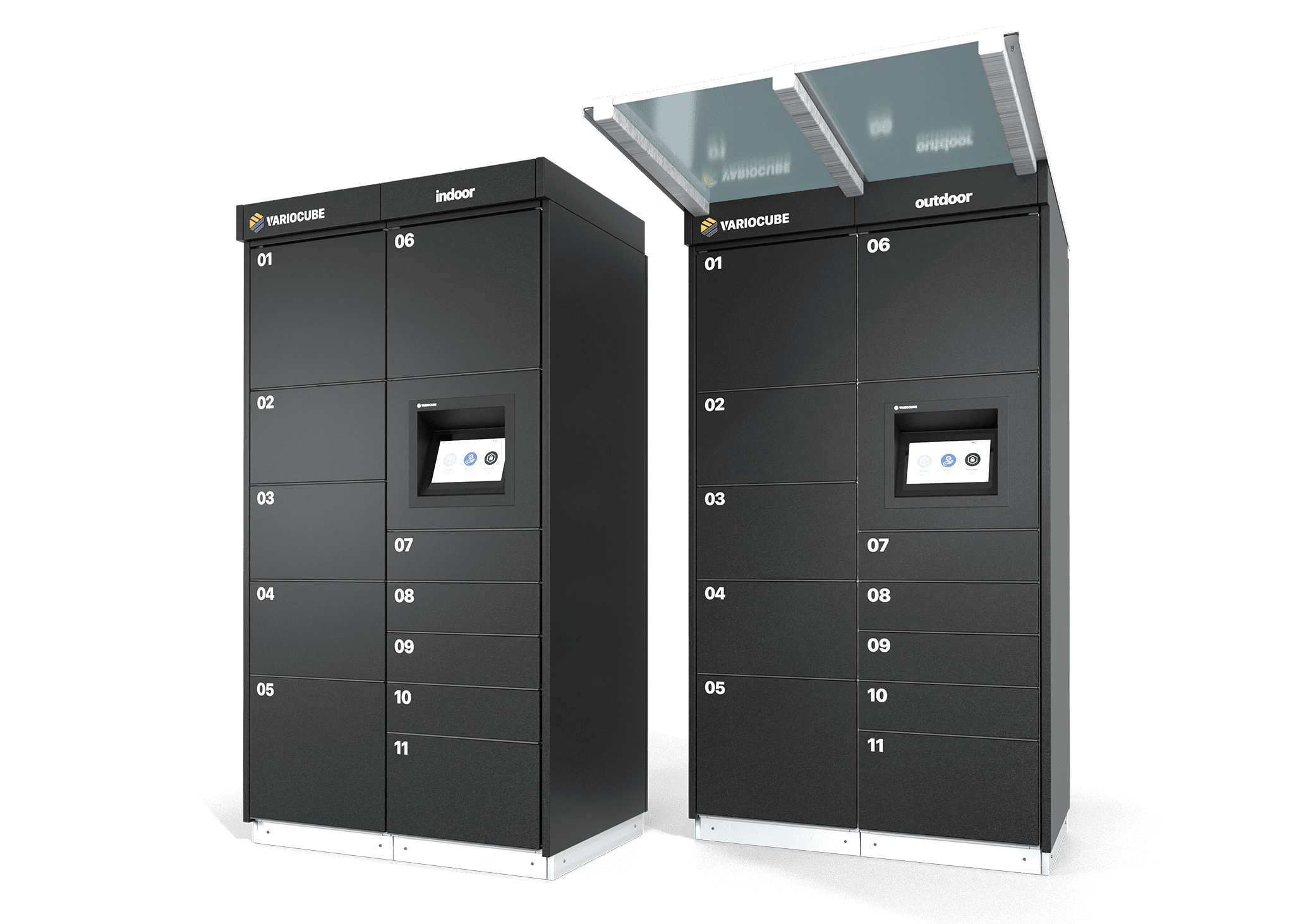 Interest sparked? Make an appointment at the booth