Innovations are more than clever ideas. They are products and services that make us better.
The Digital Marketplace is the ideal combination of an online platform with the bridging of a digitalised pick-up station with certain customer services. By setting up an innovative pick-up station with corresponding software options, city and municipal citizens are enabled to shop sustainably, conveniently and customer-oriented 24/7, which offers elderly and impaired citizens the opportunity to remain independent in their own homes for a longer period of time, as well as demonstrating possible solutions to the last mile issue and guaranteeing comprehensive CO₂ savings through the reduction of individual shopping trips.‍
The Digital Marketplace (DMP for short) fills an often existing brownfield or vacant site in the community with life again with this meaningful sustainable use.‍
In addition, the Digital Marketplace offers ideal additional benefits in the event of a disaster through completely contactless purchasing for the protection of citizens and sales staff.
Advantages
‍Benefits for the community: 
Sensible use of brownfield and vacant land
Protection of customers and sales staff in the event of a crisis
Promotion of the regional economy
Last Mile Solution
Cost savings - staying longer in your own home
‍Advantages for the customer:
Order and collect regional goods 24 hours a day, 7 days a week. Counterbalance to international online trade
No queuing; no restricted opening hours, barrier-free shopping.
Convenient pick-up near one's living unit - in addition to the daily mail, take along the daily shopping or the ordered parcels
Sustainable purchasing and CO₂ reduction
Supply even in times of crisis
Solution approaches in the last mile problem (concentration of delivery stops)
customer-friendly payment options
‍Benefits for the supplier:
Open 24 hours, 7 days a week
even closer to the customer
Scaling to many digital marketplaces possible
Delivery possible in times of crisis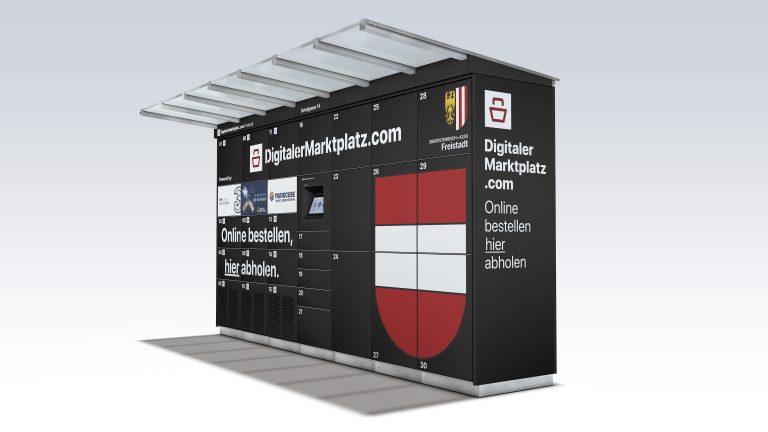 Areas of application
The DMPs are intended as a basic service for every municipality in Austria. The aim is to establish at least one of these DMPs in every municipality and possibly to jointly develop new services.‍
The DMPs bring massive benefits both in the crisis-free period but also in the crisis period.‍
In times of no crisis, this promotes the regional economy, offers its citizens convenient shopping and provides barrier-free shopping for older or impaired persons for self-sufficiency. In addition, the last-mile problem is addressed accordingly. The municipalities and housing associations want to reduce the parcel traffic that is overflowing with the growing online trade and calm down their municipal area or housing estate accordingly. The digital marketplace offers the solution here with the online platform and the real pick-up station with the extensive digital services on it in the vicinity of the citizens or residents.