Dopgas, eine Marke von Doppler Gas GmbH, stattete kürzlich zwei Standorte mit automatisierten Abholstationen für Flüssiggasflaschen aus. Seit 27. Oktober 2021 können in Wels und Laakirchen Gasflaschen für Campingkocher, Griller und Co einfach, schnell und unkompliziert aus dem Automaten entnommen werden.
Für die Umsetzung vertraut Dopgas auf die Entwicklungskompetenz von Variocube, dadurch konnte die optimale Lösung für den Verkauf von Gasflaschen gefunden werden. Zu diesem Zweck wurde nicht nur die Software für den Anwendungsfall angepasst, sondern auch eine eigene platzoptimierte Schließfachgröße entwickelt.
Pay in the store and remove from the station.
Die gewünschte Gasflasche kann einfach im Tankstellenshop ausgewählt und bezahlt werden. Die Kundschaft erhält dabei einen Abholcode, gibt diesen am Terminal ein und die entsprechende Fachtüre öffnet sich. Nun kann die Flasche entnommen werden.
Purchase directly at the terminal.
Wo verfügbar, kann direkt am Terminal vor Ort eine Flasche ausgewählt und mittels Kartenterminal bezahlt werden. So kann die Kundschaft selbst kurzfristig am Weg eine Flasche mitnehmen – auch außerhalb der Öffnungszeiten des Tankstellenshops.
Maximale Sicherheit – Elektronik von Gas getrennt.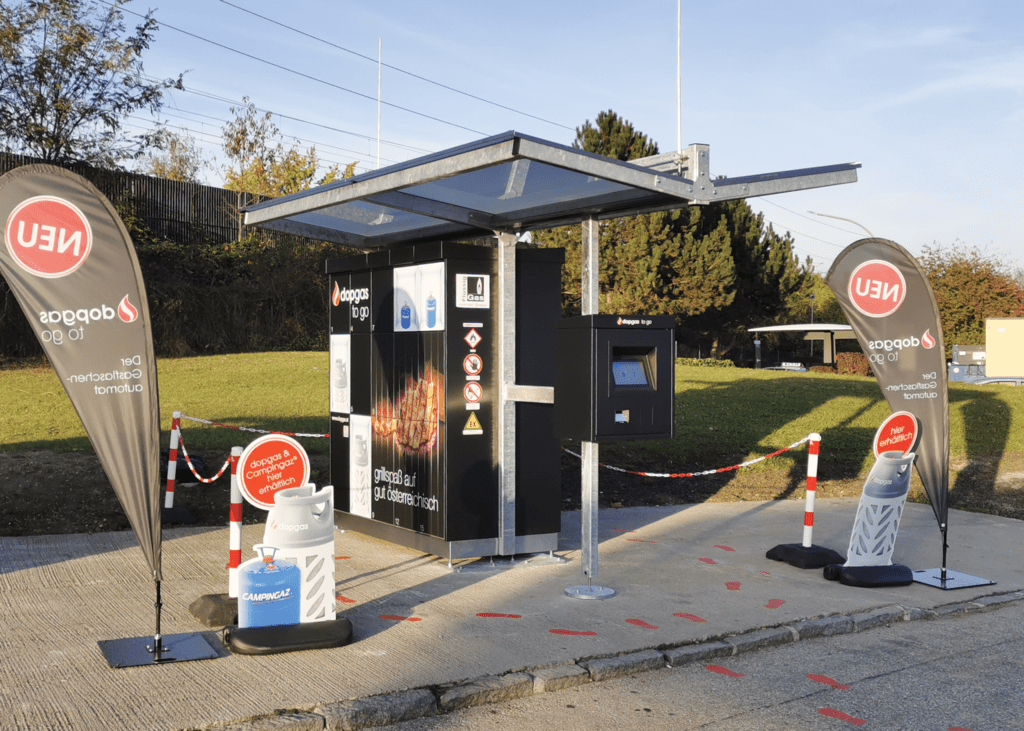 Special attention had to be paid to the safety of the installation with regard to explosion and fire hazards:
• Das Bedienterminal wurde als abgetrennte Einheit ausgeführt um eine räumliche Trennung der stromführenden Anlagenteile von den gelagerten Gasflaschen zu realisieren.
• Um eine mögliche Funkenbildung ausschließen zu können wurden die Schlösser mit Spezialharz vergossen.
Variocube automatic gas cylinder dispensers therefore meet all safety standards and specifications.
Cabinet system with adapted dimensions.
In order to make optimal use of the available space, the dimensions of the lockers have been adapted. Since gas cylinders do not require the ProLine standard depth of 650mm, a new compartment depth of 350mm was produced. The units are therefore narrower, which means that the available space can be used better and the required installation area is reduced overall.
Smart pickup station for gas cylinders
Vereinfachen Sie die Übergabe und den Kaufprozess von Gasflaschen. Durch smarte Abholstationen können Ihre Kundinnen und Kunden die gekauften Flaschen einfach aus dem Schließfach entnehmen. So sparen Sie Personalaufwand und lange Wege.