Dopgas, a brand of Doppler Gas GmbH, recently equipped two locations with automated pick-up stations for liquid gas cylinders. Since 27 October 2021, gas cylinders for camping cookers, barbecues and the like can be easily, quickly and uncomplicatedly removed from the vending machine in Wels and Laakirchen.
For the implementation, Dopgas relies on Variocube's development expertise, which made it possible to find the optimal solution for the sale of gas cylinders. For this purpose, not only was the software adapted to the application, but also a space-optimised locker size was developed.
Pay in the store and remove from the station.
The desired gas cylinder can simply be selected and paid for at the petrol station shop. The customer receives a collection code, enters it at the terminal and the corresponding compartment door opens. Now the cylinder can be taken out.
Purchase directly at the terminal.
Where available, a bottle can be selected directly at the terminal on site and paid for using the card terminal. In this way, customers can pick up a bottle on the way - even outside the opening hours of the petrol station shop.
Maximum safety - electronics separated from gas.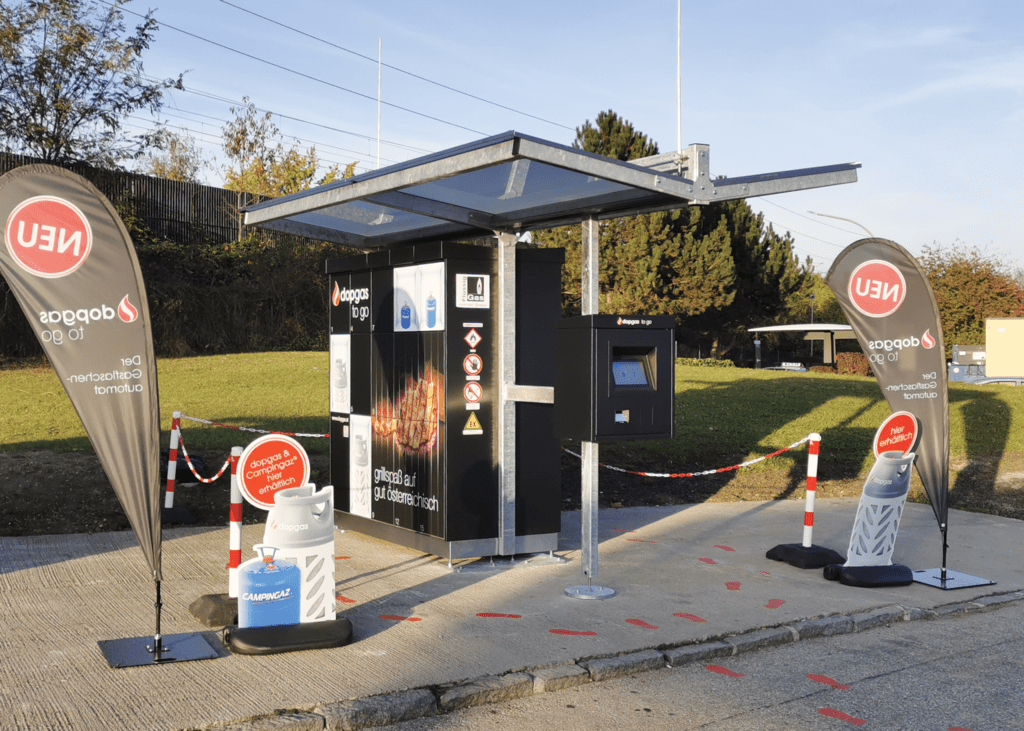 Special attention had to be paid to the safety of the installation with regard to explosion and fire hazards:
- The operating terminal was designed as a separate unit in order to realise a spatial separation of the current-carrying system parts from the stored gas cylinders.
- In order to exclude possible sparking, the locks were cast with special resin.
Variocube automatic gas cylinder dispensers therefore meet all safety standards and specifications.
Cabinet system with adapted dimensions.
In order to make optimal use of the available space, the dimensions of the lockers have been adapted. Since gas cylinders do not require the ProLine standard depth of 650mm, a new compartment depth of 350mm was produced. The units are therefore narrower, which means that the available space can be used better and the required installation area is reduced overall.
Smart pickup station for gas cylinders
Simplify the handover and purchase process of gas cylinders. Smart pick-up stations allow your customers to simply take the purchased cylinders out of the locker. This saves you staff time and long distances.